Belle director and stars discuss their frustration with women's portrayal in the media and both new opportunities and ongoing challenges for black actors.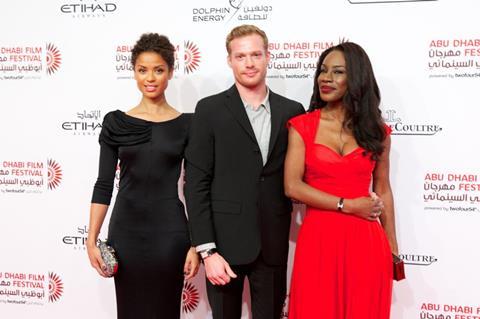 After Belle's standing ovation at the Abu Dhabi Film Festival, Screen sat down with director Amma Asante and stars Gugu Mbatha-Raw and Sam Reid to discuss the period-drama's strong message about female agency.
"Belle is as much about gender as it is about status and class," acknowledges director Asante.
"These are the subjects that interest me as a filmmaker. There's still a need to talk about them and throw them out there."
Inspired by the true story of Dido Elizabeth Belle (played by Touch star Mbatha-Raw), Asante's sophomore feature charts the trials and tribulations of the illegitimate mixed race daughter of a Royal Navy Admiral in late 18th Century England.
The Toronto premiere, picked up by Fox Searchlight for most of the world, is set against the famous Zong massacre, which stimulated the nascent abolitionist movement in the UK.
Important message
Race is firmly at the heart of Belle's predicament, but the drama also shines a light on the limited opportunities available to women at that time and explores a character prepared to risk public and private ire by stepping beyond the gender conventions of the day.
"Gugu and I talked a lot about a character who goes from saying 'as you wish, sir' to 'as I wish'", explains the director. "I like to think a film like Belle is helping somewhat to contribute to the debate."
In the same year BFI figures have revealed a shocking decline in the number of women film writers and directors in the UK and a world economic forum report has this week highlighted the ongoing global gender gap (UAE is ranked near-bottom of the chart), Belle has an important message for the film industry and beyond.
"The first question from a potential financier of a period film is how relevant the story is today. This story is still very relevant. Women still do crave a voice," says Asante.
"The two films I've made have been female-centric with female leads," she explains. "Women have carried the stories. A Way of Life was about a woman who didn't feel like she had a voice, and how society, to an extent, stifled that voice. Belle is about a character who develops a voice."
Belle co-star Sam Reid agrees that women are still too often let down by society and the industry: "The public is waking up to the incorrect way women are often portrayed in the media, films, and in television, in particular.
"More and more women are topless on TV for no apparent reason. It frustrates me. There aren't enough stories with strong true characters like Belle".
Opportunities for black actors
Film and TV period dramas [ever-popular in the UK] have traditionally offered few opportunities for black actors.
"There is a plethora of movies and culture about this period," Mbatha-Raw told a rapt audience earlier in the night.
"As a mixed race actress from the UK it is difficult when all your friends are cast in period adaptations of Dickens and Jane Austen, for example. I wasn't sure how I would get cast in those wonderful stories.
"So, I was excited by Belle because I hadn't been in a period drama before and I feel like this is part of our cultural legacy."
Director Asante, herself a former actress, recognises that the UK has made positive strides when it comes to casting black actors in leading roles.
"When I was an actress 20 years ago, black actresses simply weren't at the forefront of the minds of casting agents and producers," she recalls.
"We have reached that point for a handful of black and mixed-race actresses. We have come so far from the days when you would call a friend if you saw a black actor on TV."
"But we still have a way to go," cautions the BAFTA-winner. "Gugu is clearly an amazing actress. I hope Belle also opens the door to those actresses who haven't got to that place yet.
"The pressure I feel is to be able to prove that a black character can carry a period movie like this so that we don't have financiers saying in future 'oh well we tried that, and it didn't work'".
Next projects
Mbatha-Raw has just finished shoot on Gina Prince-Bythewood drama Blackbird.
"It is incredibly different to Belle," says the actress. "I play a troubled pop-star so I've been singing and dancing for it. It is about the momager [mom/manager]-daughter relationship and how toxic that can be."
Reid himself has just finishes two films from renowned women directors: Susanne Bier's Serena; and Lone Scherfig's Posh. He has also recently wrapped Yann Demange's 71 and is in The Railway Man.
As for Asante, the director hopes it won't be another eight years until her next feature.
"I have another passion project called Where Hands Touch, which is a 1940s piece set in Germany," she adds. The romantic drama centres on a mixed-race German girl and an SS Officer.
"It cannot be another eight years. I have been inundated with scripts. I'm not going to leave myself in the same position as 2009 When Hands Touch collapsed due to the financial crisis but also I won't work on something that isn't a passion project for me."
Belle is written by Misan Sagay and produced by Damian Jones. Bankside handles sales while backers include BFI Film Fund, Isle of Man Film, Pinewood Pictures, Head Gear Films and Metrol Technology.