Mati Diop's Atlantics, and Bacurau by Kleber Mendonça Filho and Julia Dornelles are the latest two films to take their spots on Screen's Cannes 2019 jury grid, which has seen an increase from each of the four titles so far.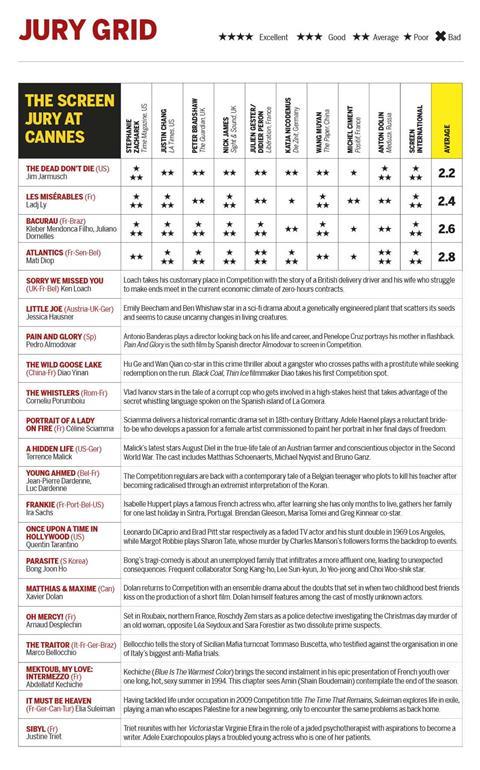 Diop, who is the first black woman to have a film in Competition at the festival, scored well with her debut feature, with a 2.8 average. This included the first two 'four' scores (excellent) on this year's grid, from Julien Gester and Didier Peron of Libération, and Anton Dolin of Meduza.
Only Positif's Michel Ciment was less impressed, awarding it one (poor).
Set in Senegalese capital Dakar, the film follows a star-crossed relationship between a 17-yeaer-old girl who is headed for an arranged marriage, and a young construction worker with ambitions to start a new life across the Atlantic.
Brazilian drama Bacurau directed by Kleber Mendonça Filho and Julia Dornelles fared only slightly less well, with a 2.6 average including seven scores of 'three' (good). The other marks were two 'twos' (average) from Die Zeit's Katja Nicodemus and Dolin, plus another one from Ciment.
The sci-fi western hybrid centres on a small Brazilian town which disappears from the map after a the death of a 94-year-old woman. Brazilian star Sônia Braga, Udo Kier and Karine Teles lead the cast.
Today's marks can be entered on Screen jury grid poster. Simply check what our critics have awarded each film, and fill in the scores – plus your own. Share your results with us at @screendaily on Twitter, Facebook and Instagram.
If you're not in Cannes or cannot get hold of a copy of Screen but want to take part, the image of the grid is available to print here.
Next up on the grid are Ken Loach's Cannes return with the Northeast of England-set Sorry We Missed You; and another of the UK titles at Cannes, Jessica Hausner's sci-fi Little Joe starring Emily Beecham and Ben Whishaw.