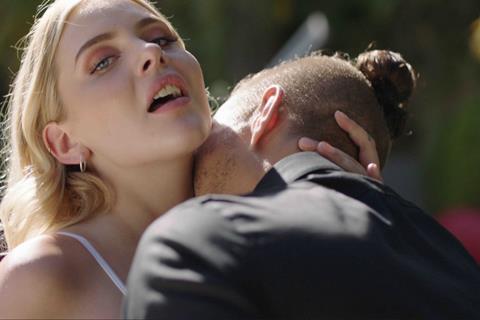 Norwegian director Guro Bruusgaard has won the Eurimages Lab iAward at Haugesund for Him.
The award—which is only eligible for a select group of work-in-progress projects that are more experimental in form or content – comes with a grant worth $55,500.
Him looks at the roles of contemporary men in society through stories of a boy, a 30-year-old man and a 60-year old man during one day in Oslo. The jury said Him offered a "relevant discussion made in a witty, intelligent and compassionate style". No sales company is attached yet.
The Eurimages jury gave a special mention to Ninja Thyberg's Jessica, about a young Swedish woman navigating the porn industry of Los Angeles, which was one of the buzziest projects for buyers and festival programmers.
Pape Boye's Versatile is handling sales. A Cannes 2020 launch could be likely, helped because Thyberg's short Pleasure was presented at Critics' Week in 2013 and producers Plattform produced the Palme d'Or-winning The Square.
Thyberg has been researching the story for four years, and has cast real people from the porn industry. "They play themselves or characters that are similar to them. We are shooting at real locations," she explained. "I want to create a very authentic tone."
"I have literally reversed the male gaze and turned the camera around," Thyberg explained of her visual approach of shooting the pornographic scenes from 19-year-old Bella's perspective. "I want to show new and different angles with the female gaze, especially since the main character is a person working at being a sexual object. By turning the camera around, we get to see what Bella is seeing, everything outside the traditional porn frame."
The film has one more round of shooting to complete this autumn in Los Angeles.
The writer-director added, "I can be bold enough to say this will be something you've never seen before."
Versatile has pre-sold the film to Germany/Austria (Weltkino), Switzerland (Xenix), Canada (MK2/Mile End),south Korea (KTH) and Taiwan (MovieCloud).
Rich source of new projects
Further notable works in progress presentations in Haugesund included:
Zentropa's Danish animation Mugge and the Street Party, Mikael Wulff and Anders Morgenthaler's children's film that impressed industry attendees with its quirky humour. TrustNordisk handles sales.
Two commercially-minded thrillers: Joachim Heden's female-centric cave diving disaster drama Breaking Surface and Norwegian disaster film The Tunnel. Both are sold by TrustNordisk.
Family films Sisters, which producer Gary Cranner described as "Terrence Malick for kids"; and The Crossing, a story of children in the Norwegian resistance in WWII.
The dark Icelandic comed-drama The Garden, the sixth feature of Ragnar Bragason (Metalhead), and with a cast including Trapped's Sigrún Edda Björnsdóttir and Woman At War's Halldóra Geirharðsdóttir, is adapted from Bragason's popular 2012 stage play, about a bitter woman living off the welfare state.
Christina Rosendahl's work-in-progress presentation The Good Traitor proved to be surprisingly topical as it examined the true story of the 1930s Danish ambassador to the US Henrik Kauffmann who was involved in talks about Greenland.
Ole Christian Madsen's The Attack in Copenhagen, sold by SF, is a character-driven drama based on the real-life terrorist attacks in Copenhagen in 2015.
Attendees were also keen to see more of Thomas Robsahm and Aslaug Holm's music documentary a-ha: The Movie, which is planned for release in November 2020.
The New Nordic Films market kicks runs in parallel to the Norwegian International Film Festival in Haugesund. About 300 industry experts attend, and this year's guests praised the event for a particularly strong works in progress selection and a fresh energy to the event also thanks to some new venues in town.
Emilie Blichfeldt's The Stepsister – now at treatment stage – was the hottest pitch in the Scandinavian Debut platform (it also won the best pitch award). The fairytale-meets-"beauty horror" will reimagine the Cinderella story from the point of view of one of her stepsisters. Mer Film, whose credits include What Will People Say and Toronto-selected Disco, will produce.
At the Co-production Market, Ole Giæver's Let The River Flow, also produced by Mer Film, won the best project award. The film will be inspired by the true story of a young Sami woman in the 1970s who joins a protest against the Norwegian government.
Homebound, directed by Marika Harjusaari from Aalto/ELO Film School in Finland won the award for Next Nordic Generation.
New Nordic Films also hosted 19 market screenings including Jens Jonsson's The Spy, Jesper W Nielsen's The Exception, and Runar Runarsson's Echo (which just premiered at Locarno). One of the hottest tickets was an invitation-only market screening of Dag Johan Haugerud's Beware of Children, which will have its world premiere at Venice Days.
A panel organised with Europa Distribution examined the success of Queen Of Hearts across the value chain, from production and finance through to festivals and distribution. The film is now one of three finalists as Denmark's foreign-language Oscar entry.
Over at the film festival, the awards went to: Portrait Of A Lady On Fire (Norwegian Critics Prize), Before The Frost (Fipresci prize), Ballon (audience award), In Safe Hands (Andreas Ecumenical award) and Fisherman's Friends (Ray of Sunshine award).