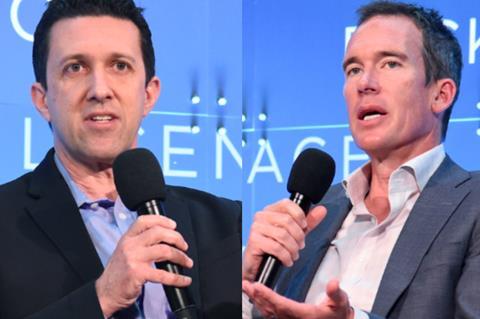 The ad-supported video on demand (AVOD) business represents a fast-growing opportunity for independent film sellers but also challenges in getting films discovered by viewers, according to speakers at the AFM distribution conference in Los Angeles this week.
Moderating a conference session tagged 'The Rise Of AVOD,' Digital Advisors president Bruce Eisen reported that the worldwide AVOD distribution business is predicted to nearly triple in size from $22bn in 2018 to around $56bn in 2024.
But executives from some of the leading platforms had different takes on how different delivery methods can affect the visibility of independent films.
Tubi TV chief content officer Adam Lewinson (pictured at left) said that with his platform's purely on-demand model – which he described as "basically free Netflix" - algorithms are key to connecting viewers with indie films. "The more we understand our viewer behaviour the easier it is for us to feed recommendations, and that's where discovery happens," said Lewinson. "On Tubi, I see tonnes of indie movies performing at an incredibly high level."
Lewinson argued that in a linear AVOD service, discovery is more of a challenge. And in a transactional video-on-demand (TVOD) environment, he added, "it's harder and harder for an indie [film] to find it's audience."
Jeff Shultz pictured at right), chief business officer at Viacom-owned Pluto TV, a linear service that also has an on-demand library, argued the opposite: "It's easier to find movies on a linear service than it is in the rabbit hole of the video-on-demand library," said Shultz. "We license, and expose to users, tonnes of non-major feature movies."
Julian Franco, senior director, AVOD, at Walmart-owned video delivery company Vudu, agreed that "discoverability is arguably the biggest problem" for independent films. Vudu's solution, he said, is to "license independent films exclusively in AVOD as early as we can. If we get them [early] in the AVOD window it then gives us a reason to talk about them [to users]."
Asked about their financial models for acquiring independent films, most of the speakers said they do straight licensing as well as revenue and inventory share deals (which give rights owners either a share of advertising revenue or of advertising time that they can then sell themselves).
Tubi's Lewinson declined to give specifics but insisted that while independent film sellers are "seeing a lot less money in SVOD these days," and less in the TVOD market, "our content partners are very happy with how they're monetising on Tubi. Not everything is going to be a home run, but in many cases we're finding [sellers saying] 'I'm monetising so much better on Tubi than in any other window.'"