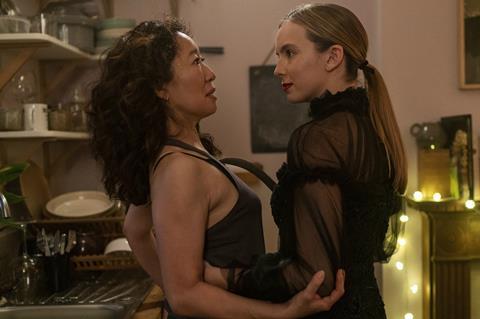 Bafta has updated its rules for UK TV productions in the wake of last year's Killing Eve controversy, while shows could soon have to hit diversity targets to qualify.
The awards body has tweaked its qualification criteria so that shows could be eligible for its TV awards even if they premiere outside of the UK.
Such shows will need to have been "initiated and developed" in the UK and have creative control residing within the UK, or a UK broadcaster must have "primary editorial control". Shows will also be required to have a UK TX within the same calendar year.
The move comes a year after BBC America original Killing Eve was controversially allowed to enter, going on to win three awards. Phoebe Waller-Bridge's crime caper was produced by a UK indie – Sid Gentle Films - and forged by UK talent, while playing out on BBC1 around six months after its US premiere.
Bafta deputy chair Krish Majumdar said the changes are "reflective of the global TV landscape".
He added: "TV is a global business and we have to support British creativity and excellence in this new world. If you look at the rules carefully, that is what we are doing. I'm confident these will work."
Majumdar, who steps up to Bafta chair next year, played down the idea that the changes could lead to confusion around definitions of "primary editorial control" and "initiated and developed in the UK".
He said each show would be examined on a case-by-case basis by Bafta's TV committee, which is led by BBC Studios managing director, factual entertainment and events, Hannah Wyatt.
Diversity targets
Shows could also have to hit diversity targets to qualify for entry if a pilot commencing this year is deemed successful, said Majumdar.
In this year's pilot, all entrants for production categories will be measured against the BFI's Diversity Standards, with a view to rolling these standards out in full for the 2021 ceremony.
Bafta will take the opportunity this year to measure shows against the standards, analyse the data, and then consult with producers and broadcasters before deciding whether to introduce hard targets for the following year.
If introduced, eligible shows would need to have a certain diversity make-up to qualify. These targets may not necessarily be a carbon copy of the BFI's Diversity Standards, said Majumdar, but the approach remains flexible.
"There could always be dialogue in mitigating circumstances for different genres, but what this will do is focus everyone's minds," he added. "This puts everyone's shoulders to the wheel for trying to make the industry more inclusive. Everyone is taking diversity more seriously."
Majumdar was speaking on the day that Bafta revealed the 21 successful applicants to its third Elevate programme, which helps underrepresented actors progress to the next stage of their careers.
The likes of Bodyguard's Anjli Mohindra, Fleabag's Anthony Welsh and The Bisexual's Saskia Chana made the cut.
Bafta has also introduced a casting award in its smaller craft awards for the first time this year.
The Baftas will take place on 17 May 2020, around one month after the craft awards.
This story first appeared in Screen's sister publication Broadcast.