11th edition of festival to close with UK premiere of Force Majeure, and will feature 33 UK premieres and a record 11 world premieres.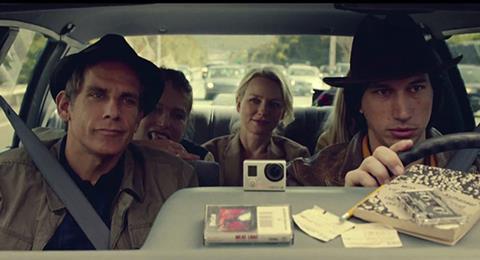 While We're Young is to receive its European premiere as the opening film of the 11th Glasgow Film Festival (GFF) (Feb 18-Mar 1).
Noah Baumbach's comedy stars Ben Stiller and Naomi Watts as a settled married couple who are offered a second chance at youth when hipsters Jamie (Adam Driver) and Darby (Amanda Seyfried) come into their lives. The film premiered at Toronto International Film Festival last year.
This year's festival will close with the UK premiere of Cannes Jury Prize-winner Force Majeure, written and directed by Ruben Östlund. The film explores the flaws and cracks in a marriage after an avalanche hits in the French Alps where the couple are on a skiing holiday with their children.
Supported by Glasgow City Marketing Bureau, EventScotland, Creative Scotland and BFI, this year's edition will see the inaugural Audience Award announced at the Closing Gala. A selection of ten films by first and second-time directors, including Ana Lily Amirpour's A Girl Walks Home Alone At Night and Alice Rohrwacher's The Wonders, will be voted on by the ticket-buying public.
Allan Hunter, GFF co-director, said: "Glasgow's love affair with the movies is a passion that never fades and one that lies at the heart of this year's Glasgow Film Festival, and our Cinema City strand celebrates the love affair in special screenings, talks and an exhibition."
Allison Gardner, GFF co-director, said: "There are certain happy accidents that you only notice once you've pulled the programme together - in particular, we have exceptionally strong ranges of East Asian cinema and documentary film-making this year, with very exciting UK and European premieres from some of the world's most highly-regarded directors."
Premieres
A record 11 world premieres will take place at this year's GFF, including David Hayman Jr's directorial debut Wasted Time, Maurice O'Brien's profile of the Scottish novelist William McIlvanney: Living With Words and Andre Semenza & Fernanda Lippi's Sea Without Shore which blends cinematic physical performance and dance with a soundtrack from Oscar-winning Glen Freemantle.
Wim Wenders and Juliano Ribeiro Salgado's Oscar-nominated The Salt of the Earth, Roy Andersson's A Pigeon Sat on a Branch Reflecting on Existence, Richard Glatzer & Wash Westmoreland's Still Alice, Olivier Assayas' Clouds of Sils Maria and Kim Longinotto's Dreamcatcher are among the 33 UK premieres taking place at this year's festival.
Including the Opening Gala of While We're Young and Ken Ochiai's Uzumasa Limelight, there are ten European premieres at this year's edition as well as two international premieres: Kasimir Burgess' Fell and Kevin Nikkel's On the Trail of the Far Fur Country.
The likes of Nick Broomfield's Tales of the Grim Sleeper, Jon Stewart's Rosewater, Carol Morley's The Falling, Xavier Dolan's Mommy and Lav Diaz's From What is Before will receive their Scottish premieres in Glasgow.
FrightFest
Marking its tenth year at the festival, Film4 FrightFest will feature three world, two European and six UK premieres. This year will see it kick off with the UK premiere of Brad Anderson's Eliza Graves, starring Kate Beckinsale, on Feb 26 ahead of its 11-strong two-day programme on Feb 27-28.
Matt Winn's The Hoarder, April Mullen's 88, starring Katharine Isabelle, and Russell Gomm's The Woods Movie, looking at the making of The Blair Witch Project, will receive their world premieres at this year's festival, while Chris Sparling's The Atticus Institute and Marcus Nispel's The Asylum (Backmask) both receive their European premieres.
The lineup is completed with the UK premieres of Kiah Roache-Turner's Wyrmwood, John Watts' Clown (produced by Eli Roth), Hans Herbot's Belgium box office hit The Treatment, Jaume Balagueró's [REC]4: Apocalypse and Jay Dahl's There Are Monsters, as well as the retrospective premiere of Mario Bava's Blood and Black Lace.
Alan Jones, FrightFest co-director, said: "It's been a decade of the decayed. The Glasgow Film Festival has been an instrumental part of FrightFest's ever-increasing success story in becoming the UK's leading horror fantasy brand, and we wanted to do something extra special to celebrate our prestigious tenth milestone. So it was important for us to showcase a whole range of brand new titles."
Guests for the strand, which will also showcase new short films, will be announced shortly.
Events / Guests
Continuing its reputation for pop-up cinema, this year will see the first screenings in one of Glasgow's most popular wedding venues Mackintosh Queen's Cross (Love Is All and Wake in Fright), a 1970s roller disco at Drygate Brewery for a screening of Dazed and Confused, a murder mystery party and screening of Murder on the Orient Express and composer Irene Buckley debuting her new soundtrack to The Fall of the House of Usher in the gothic surrounding of Pollokshaws Burgh Hall.
GFF's Music and Film Festival has evolved into Sound & Vision for 2015, a new strand which celebrates Glasgow's relationship with sonic cinema. Events include live performances from British Sea Power, a 90s French House club night following a screening of Eden and a brand-new digital print of Talking Heads concert film Stop Making Sense.
The festival's cult strand Nerdvana will see a screening of The King of Kong: A Fistful of Quarters in a specially-created gaming arcade and Robert Florence host two events: an interactive gaming party at Glasgow's IMAX Cinema and a live improvised Dungeons & Dragons session.
Confirmed guests to date at this year's GFF include Oscar-winning sound designer Glenn Freemantle for a masterclass on sound in film, Carol Morley for The Falling, Paul Merton paying tribute to Buster Keaton, David Robert Mitchell for the Scottish premiere of It Follows and Ólafur Arnalds who will perform the soundtrack to ITV's Broadchurch live.
Further guests will be announced in the run-up to the festival.
For further information about this year's festival, visit its official website.