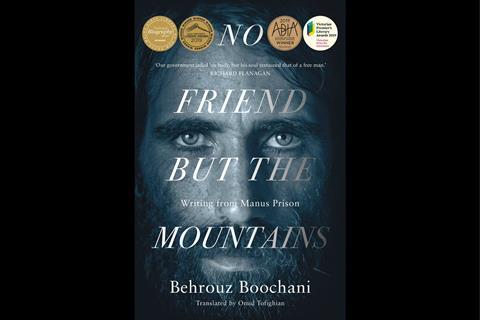 A trio of Antipodean companies are joining forces on a big-screen adaptation of Kurdish-Iranian journalist Behrouz Boochani's award-winning book No Friend But The Mountains: Writing from Manus Prison.
The autobiographical international bestseller recounts Boochani's near seven-year detention in Australia's notorious off-shore asylum seeker processing centre on Papua New Guinea's Manus Island, from 2013 to late 2019. Boochani documented his time there throughout his stay, including riots over the appalling conditions in 2014.
Sweetshop & Green, Aurora Films and Hoodlum Entertainment are partnering to develop and produce the film with the aim of shooting in mid-2021.
Boochani fled Iran in 2012 after the newspaper he co-founded was raided by the Iranian government. He attempted to travel to Australia by boat from Indonesia but the vessel was intercepted and he ended up on Manus Island.
He wrote No Friend But The Mountains in Persian on WhatsApp on a contraband phone smuggled onto the island, which was then translated into English by academic Omid Tofighian.
Since the work's publication in 2018, it has been sold to 19 countries and won a slew of awards, including Australia's prestigious Victorian Prize for Literature.
The feature adaptation project was initiated by writer and producer Akos Armont (The Tender Dark) and producer Antony Waddington (The Eye Of The Storm) for Sydney-based Aurora Films.
Sweetshop & Green co-chiefs Sharlene George and Gal Greenspan, who is also the co-founding CEO of Israeli company Green Productions (Scaffolding), are at the European Film Market seeking more partners and finance.