Filmmakers including Darren Aronofsky, Tsui Hark and Jean-Jacques Annaud discussed the key factors that help a film travel at the Beijing International Film Festival's Co-production Forum today.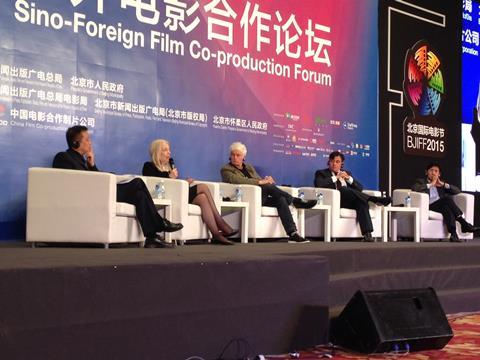 In a touchy-feely session that was much tamer than last year's Forum – when Oliver Stone blasted China for not making films that tackled its past – the talk was mostly of creating universal stories and looking beyond cultural differences.
"It all comes down to character and the humanity that unites us all," said Aronofsky. "I was on the Berlin film festival jury this year and a film from Iran won. But it doesn't matter what country it came from – it was just a deeply emotional human story. I don't know that there are French stories, Chinese stories or American stories. Co-production should reflect that."
Hong Kong director Tsui Hark agreed that the human story has to come first, but added that "there's a different philosophy in Western and Asian cinema, the way characters relate to each other is different, the aesthetics are different".
Aronofsky agreed but said that he'd watched all of Tsui Hark's films as a student and "I recognised that the aesthetics and the philosophy were different, but his films still moved me, excited me and inspired me."
In an earlier session, Tom DeSanto (X-Men, Transformers), who is writing a big-budget project based on Chinese myth Creation Of The Gods, said the time has come for China to share its stories with the world, in the same way that Hollywood stories have travelled everywhere.
"I understand there's a fear of the Hollywood juggernaut," said DeSanto. "But you can either be afraid or collaborate – you can be more Star Trek than Mad Max. We're creating a cinematic future where our stories are shared around the globe. The next generation of kids will have heroes and villains with Chinese and Latin and black faces."
British Film Institute CEO Amanda Nevill agreed that opening up to collaboration, rather than using protectionist measures, had helped the British film industry to flourish and encourage new talent.
"The UK government recognised that instead of closing the borders, it had to throw open the doors," said Nevill, who is making her second trip to China since the UK-China co-production treaty was ratified in March.
"The government realised that if we wanted to grow a powerful cultural industry we had to create the most easy fertile place for the world's filmmakers to come and work. Now we can see the results of this. There are few [Hollywood] films that don't have some British elements."
Speakers also included French director Jean-Jacques Annaud, who said his recent hit Wolf Totem started life as a Chinese project and was only set up as a Sino-French co-production to help secure distribution in Europe. Meanwhile, Jennifer Yuh Nelson, director of Kung Fu Panda 2 and Kung Fu Panda 3, explained how having a large team of Chinese artists on the films had helped them avoid major gaffes like "mixing up the dynasties".
CJ Entertainment CEO Tae Sung Jeong explained how Korea's vibrant film industry had needed protectionist measures to get started – but now seems to be flourishing with fewer restrictions in place. The Korean industry is also co-producing many films with China – a natural cultural partner – but is also looking at how it can add value to the China market.
"When deciding which Chinese projects we should produce, we always ask – is this something new and different for Chinese film? Will it please the local audience? We're making films in Thai, Indonesian and Vietnamese, but China is the biggest market and there's a lot of culture, history and values that we share."