Gangster film suffered record third-week screen count drop in US.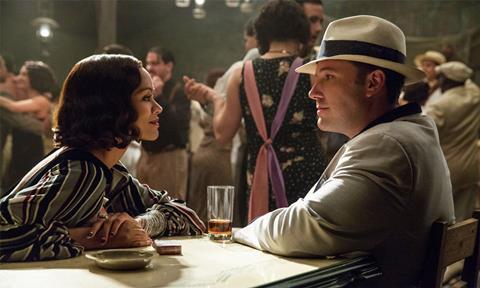 Ben Affleck gangster film Live By Night had the biggest third-week drop in cinema screens since records began, according to Box Office Mojo.
The site records the third week drop in cinema screens for wide releases in the US. Live By Night is number one in their chart (which goes back to 1982), dropping from 2,822 screens in week two to just 163 in week three, a loss of 2,659 screens.
The film was on limited release for three weeks before expanding to a wide release.
The next film on the list is Eddie Murphy comedy Meet Dave, which dropped from 3,011 screens to 488 screens in 2008. Third is Hardcore Henry, which declined from 3,015 screens to 519 screens last year.
Paul Dergarabedian, senior media analyst at ComScore, commented on the sharp drop: "Every movie is negotiated separately. [But] the two-week window is a significant thing. When we ran our numbers, the third week is the tipping point for many movies.
"After a couple of weeks if the movie isn't playing very strongly, then there is the option for theatres to go to the studio and say look, 'we need to free up some shelf space here'. With the first couple of weeks generally they're not going to have much wiggle room."
He continued: "[Live By Night] was a big drop. Think about it though, Warner Bros. has some big films coming up, they have Wonder Woman, Justice League, so none of this happens without the cooperation of the studio."
Drastically reducing the number of screens a movie plays on could also indicate a quicker transition to the small screen, said Dergarabedian.
"For some studios it may be more advantageous - if a movie is played out after three weeks - to get it on home video quicker and get that revenue stream coming in from the small screen. Sometimes it's the smarter move to shorten the theatrical window."
Live By Night, which Affleck starred in and directed, has underperformed at the box office, making $10m in the US and $18.9m worldwide.
Read more:
'Live By Night': Review