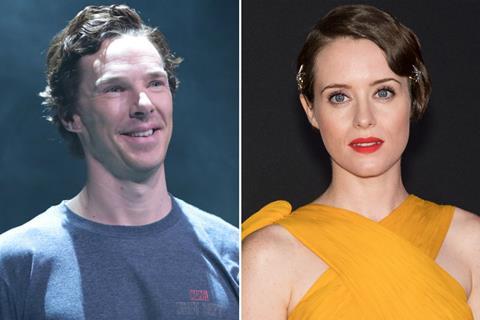 Benedict Cumberbatch and Claire Foy are set to star in Louis Wain, a drama about the real-life Victorian painter of cats, for rising UK writer-director Will Sharpe.
The project is being produced by UK outfit Shoebox Films with Cumberbatch's SunnyMarch and is backed by Studiocanal and Film4. Shooting is due to get underway in August at Ealing Studios. Producers are Guy Heeley and Ed Clarke for Shoebox, with Adam Ackland and Leah Clarke for SunnyMarch
Studiocanal controls worldwide rights and will release in its distribution territories - the UK, France, Germany and Australia and New Zealand. Amazon Studios has pre-bought US rights.
The long-gestating project has been in development with London-based production outfits SunnyMarch and Shoebox for several years. An initial version of the script, written by Simon Stephenson, appeared on the Brit List in 2014. Stephenson retains a writing credit on the new version.
Wain was an eccentric English artist who was known for his drawings featuring large-eyed cats and kittens. He died in 1939. Cumberbatch will play Wain, while Foy will play his wife Emily.
Shoebox Films is the London-based production company run by Heeley, Paul Webster and Joe Wright. The company recently produced Marjane Satrapi's Marie Curie biopic Radioactive starring Rosamund Pike, also for Studiocanal, which is closing this year's Toronto film festival. Shoebox's further credits include Steven Knight's Serenity with Matthew McConaughey and Anne Hathaway, and Knight's Locke, starring Tom Hardy.
Will Sharpe is a hot talent in the UK. His Channel 4 black comedy series Flowers, with Olivia Colman and Julian Barratt, was a hit in 2016 and returned for a second series in 2018. His debut feature Black Pond, which he co-directed with Tom Kingsley, was nominated for a Bafta in 2012.
Cumberbatch, Foy and Stephenson are former Screen Stars of Tomorrow, in 2004, 2008 and 2014 respectively.