Agnieszka Holland among those to voice concern for the Ukrainian director's ongoing incarceration.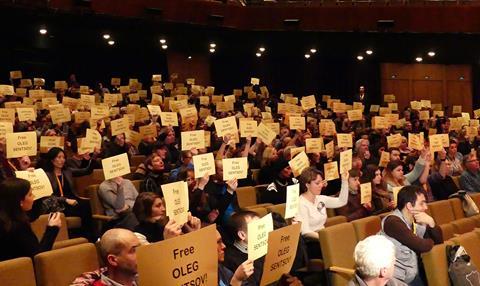 The fate of the imprisoned Ukrainian filmmaker Oleg Sentsov is back in the spotlight at Berlin Film Festival this week with the world premiere of Askold Kurov's documentary The Trial: The Russian State Vs Oleg Sentsov screening in the Berlinale Special sidebar.
Investigating the truth behind the political show trial which saw the director sentenced in August 2015 to 20 years imprisonment for terrorism, the film also documents the wave of international solidarity from the filmmaking community spearheaded by the European Film Academy (EFA) from Berlin.
Speaking after the screening, EFA chairwoman Agnieszka Holland said: "From the Communist times in Poland and Czechoslovakia, [we know] this kind of international solidarity is the only weapon we have to fight this kind of political injustice and terror."
Sentsov's lawyer Dmitry Dinze called on international colleagues and other organisations like Amnesty International to keep up the support for Sentsov even though Russian President Vladimir Putin has said that "the time has not become mature enough to resolve this case".
Dinze noted that efforts are underway by the Ministries of Foreign Affairs and Justice of Ukraine to resolve the situation by having Sentsov transferred from Russia prison to Ukraine.
He added: "The Ministries of Foreign Affairs and Justice in Russia are not ready to do that as they consider Oleg to be a Russian citizen. It is very unclear when this situation can come to a close as the political situation in Russia at the moment is very difficult and complicated to make any forecast. But if the international community continues to support Oleg, I think we can get things moving step by step."
The filmmaker's cousin Natalia Kaplan agreed that "the only way this conflict can be solved is by political means. The politicians I am speaking to say they are working on it, but they have been doing that for some time and it feels as if the dust is settling at the moment. So I have no optimistic view to give for the near term."
Kaplan added that Sentsov's children and his mother were "making ends meet" at their home in the Crimea, although his mother was concerned that she may not live long enough to see her son as a free man again. He is not due to be released until 2034.
According to a report from Krim.Realii on the eve of this year's Berlinale, Sentsov and his fellow defendant Sasha Kolchenko are in good health as they serve their terms. Sentsov has apparently written four new screenplays while in prison.
"Oleg needs us, but we need Oleg," Holland declared. "His courage and the message of his courage are so relevant today. We filmmakers and citizens of Europe – of Poland, Hungary, Turkey and the United States now – need this message now. We are all Oleg now."