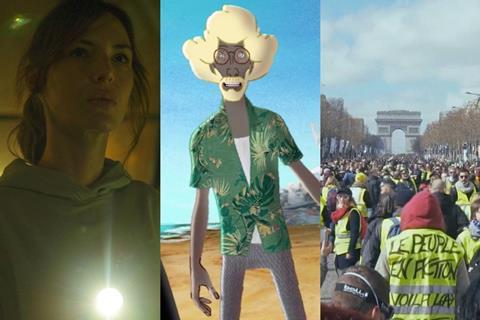 Brussels-based sales and production services company Best Friend Forever (BFF) has acquired international rights to French director Nicolas Silhol's housing crisis drama Anti-Squat, now in post-productiotn.

The company will launch sales on the film at this week's Unifrance Rendez-Vous in Paris, running January 11-17 in the French capital.
Louise Bourgoin stars as the homeless single mother of a teenage son, who finds accommodation through a new scheme being run by a start-up company offering temporary housing in empty office buildings.
It is Silhol's second feature after workplace thriller Corporate, which world premiered in Karlovy Vary in 2017 and then drew 250,000 spectators for Diaphana Distribution.
Kazak Productions, the Paris-based production house behind Cannes Palme d'Or winner Titane, is lead producing the film which is in post-production. Diaphana has taken French rights for a release in the second half of 2022.
Further titles
A further recent French-language acquisition is documentarian Emmanuel Gras' new feature A French Revolution. It charts the rise of the Yellow Vest movement in France in late 2018 through a group of men and women from the city of Chartres who joined the cause, protesting rising cost of living and job precarity.
"It takes an immersive approach and gives a completely different view of the yellow vests from the generally negative one in the French or international press. Many of these characters are very sympathetic," said Gondre.
Bin suggests upcoming presidential polls in France this May could bring the Yellow Vests to the fore again this year. "The movement was eclipsed by the pandemic but the issues they were protesting about will be front and centre again in this presidential election year," he said.
It is produced by Fréderic Jouve's Les Films Velvet and KMBO will release the film in France on February 23.
Launched in Cannes 2019 by former Indie Sales marketing manager Martin Gondre and former entertainment lawyer Charles Bin, most of the BBF's existence has been under Covid-19 pandemic conditions. The company has managed to make its mark nonetheless handling award-winning films such as Valentyn Vasyanovych's Atlantis, Kiro Russo's The Great Movement, Camilo Restrepo's Los Conductos and Ayten Amin's Souad.
"We've proved our abilities in terms of acquiring and selling international arthouse titles and as we move into 2022, we're expanding our French-language slate as well as branching into animation too," said Gondre.
Further French-language titles include actor Jérémie Elkaim's directorial debut A Change Of Heart and Christophe Meurisse's Bloody Oranges.
Calais-set romantic drama A Change of Heart stars Marina Foïs as a National Front supporter who falls in love with an Iranian teacher who is trying to get across the English Channel to the UK. Memento Distribution will release in France on February 23.
Meurisse's political correctness black comedy Bloody Oranges world premiered in Cannes' Midnight strand to critical acclaim last year and was released by The Jokers in November "We love handling these Midnight strand type of titles and it's something we'll be looking out for again this year," said Gondre.
BFF also previously handled Mother Schmuckers which debuted in Sundance's Midnight in 2021 The Twentieth Century, which played in Toronto's Midnight Madness in 2019.
Rotterdam acquisition
Looking beyond the Unifrance Rendez-Vous, the company is also handling award-winning Romanian animation director Anca Damian's new work The Island, which is due to make its European premiere in the Rotterdam's Big Screen Competition. It follows Marona's Fantastic Tale which premiered at Annecy and then played at multiple festivals.
It marks a first feature animation for BFF although Gondre has experience of selling animation titles having worked on My Life As A Zucchini and Moomins On The Riviera while at Indie Sales. The work is a contemporary adaptation of a 1979 play by late Romanian writer Gellu Naum, which in turn was inspired by Daniel Defoe's 1719 classic novel Robinson Crusoe. In his modern incarnation, Robinson is a doctor living in voluntary solitude on an island invaded by migrants, NGOs and guards.
The animation is produced by Romanian company Aparte Film, in co-production with Sebastien Onomo's Special Touch Studio, Take Five, Komadoli, Minds Meet and Amopix.