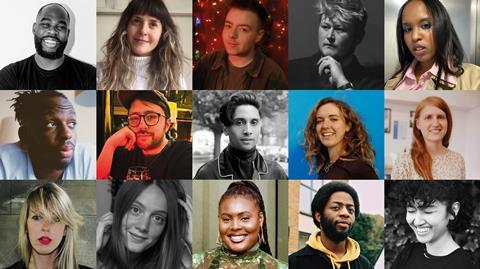 The 15 participants in this year's BFI Network@LFF professional development programme will include writer-director Abraham Adeyemi, whose directorial debut No More Wings won best narrative short at Tribeca Film Festival, writer Kamal Kaan, who was story, location and cultural consultant on Clio Barnard's Cannes premiere Ali & Ava, writer-director Lowri Roberts who co-founded production company Rapt with actor Maisie Williams, and writer-director Dan Thorburn whose debut feature Barfly recently won best project at the Galway Film Fleadh marketplace.

Adeyemi is co-developing TV series South London, I Love You, co-created with fellow Network@LFF participant Femi Oladigbolu plus Screen Star of Tomorrow 2022 John Ogunmuyiwa, and feature film Teacher & I with Film4 and Greenacre.
Kaan's short All The Lights Still Burning is premiering at the BFI London Film Festival.
The 10th edition of the initiative will take place during the LFF from October 6-9, filed with masterclasses, screenings and networking opportunities.
BFI Network@LFF boasts alumni with films screening at this year's LFF including Venice Critics' Week winner Hoard's writer-director Luna Carmoon and producer Helen Simmons, who met on the programme; Sky Peals' writer-director Moin Hussain; Girl writer-director Adura Onashile; and Helen Gladders, producer of Tuesday.
Carmoon and Simmons, who are contributing to this year's programme, noted: "This programme introduced us to an incredible network of creatives who we are still close with to this day, and allowed us to get direct advice and inspiration from filmmakers at the top of their game."
Alice Cabañas, head of BFI Network, said of this year's cohort: "Their talent, combined with their ambition and potential, makes us feel confident they will continue the BFI Network@LFF's track record of supporting some of the UK's most exciting filmmakers as they move onwards through the industry and through their careers. This year's applications were again incredibly challenging to shortlist to the final 15, with a wealth of distinctive voices applying."
BFI Network@LFF 2023 participants
Abraham Adeyemi – writer-director
Dipo Baruwa-Etti – writer-director
Maria Caruana Galizia – producer
Xenia Glen – writer-director
Solène Guichard – writer-director
Kamal Kaan – writer
Tobi Kyeremateng – producer
Warda Mohamed – writer-director
Femi Oladigbolu – writer-director
Caleb J. Roberts – writer-director
Lowri Roberts – writer-director
Andrew Rutter – writer-director
Simone Smith – writer-director
Dan Thorburn – writer-director
Hayley Williams – producer