Universal's Billy Elliot the Musical - Live sets new Event Cinema record with $3.1m (£1.904m) to become its first-ever number one; Sony's reboot lands with $3.07m (£1.89m) from its 458 sites.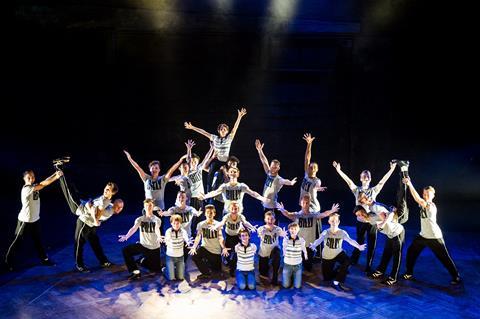 Event Cinema has a new champion. Billy Elliot the Musical - Live has become the burgeoning exhibition sector's first ever number one at the UK box office.
Universal's live stream from London's Victoria Palace Theatre last night [Sept 28] danced its way to an extraordinary $3.1m (£1.904m), setting a new record for Event Cinema releases.
Based on figures from Rentrak, in terms of theatre releases, Billy Elliot surpassed the previous best opening set by NT Live: War Horse at $2.5m (£1.6m). War Horse is also currently the highest grossing theatre release at $4.6m (£2.7m).
Billy Elliot also debuted ahead of Doctor Who: The Day of the Doctor which landed with $2.9m (£1.82m) last year.
Due to its huge success, encore screenings have been confirmed to take place in 350 cinemas across the UK on Oct 2-5. The performance saw 25 former and current Billy Elliots come together on stage for a specially choreographed finale [pictured].
Also for Universal, last week's champion The Boxtrolls fell just 15% in its third weekend to take a further $1.8m (£1.12m) for $8m (£4.94m) to date. It still has every chance of surpassing both ParaNorman ($10.2m/£6.3m) and Coraline ($12.1m/£7.43m).
Lucy has now amassed $22.2m (£13.71m) following a $610,000 (£376,000) sixth weekend, while The Riot Club fell 39% in its second weekend to add $488,000 (£301,000) for $1.8m (£1.12m).
SONY
Leading the way until Billy Elliot burst onto UK screens, The Equalizer had to settle for second with a $3.07m (£1.89m) bow from its 458 sites.
Sony's action reboot marked director Antoine Fuqua's third best-ever UK bow, with Olympus Has Fallen still leading the way at $3.6m (£2.2m) although that did include $1.1m (£652,000) in previews.
King Arthur is currently Fuqua's best-ever UK performer with $11.5m (£7.1m), a tally that The Equalizer could challenge if it holds well this coming weekend.
Also for Sony, Sex Tape added $430,000 (£265,000) for $6.6m (£4.1m) after four weeks in play, while Think Like a Man Too posted a second weekend of $110,000 (£68,000) for $425,000 (£262,000) to date.
LIONSGATE
Charting fourth on debut was Lionsgate's What We Did on Our Holiday with a solid non-final $1.3m (£809,782), including $28,000 (£17,242) in previews, from its 450 sites.
Albeit for different audiences, that's an opening ahead of recent Brit comedy Pride which debuted with $1.2m (£718,778) from 489 sites.
EONE
Arguably hit by the arrival of The Equalizer, eOne's A Walk Among the Tombstones fell 54% in its second weekend on its way to $978,000 (£602,953) for a sturdy $4.4m (£2.7m) to date.
Also for eOne, Maps to the Stars opened with $210,000 (£129,324) from its 68 sites, with the bulk of its business done in London. In terms of David Cronenberg outings in the UK, that's a bow ahead of Cosmopolis' $189,000 (£116,519) from 62 sites.
A Most Wanted Man and The Hundred-Foot Journey stand at $2.8m (£1.7m) and $4.1m (£2.5m), respectively.
FOX
Dropping just 26% in its third weekend, Pride grossed $651,000 (£400,247) to climb to $4.4m (£2.7m) through Fox.
Also for Fox, Let's Be Cops reached $8m (£4.95m) with a $300,000 (£184,429) fifth weekend.
I Origins could only manage a $24,000 (£14,953) debut from its 51 sites, some way short of the $148,000 (£90,953) bow from 116 sites of director Mike Cahill's previous film Another Earth.
DISNEY
With a drop of only 19% in its ninth weekend, Disney's Guardians of the Galaxy grabbed an additional $548,000 (£338,000) for a mighty $45.1m (£27.77m) to date. It's now closing in on the first Pirates of the Caribbean outing's $45.8m (£28.2m) UK haul.
STUDIOCANAL
Before I Go to Sleep will hit £3m this week after a $296,000 (£182,522) fourth weekend lifted its UK tally to $4.8m (£2.98m) through StudioCanal.
WARNER BROS
Woody Allen's latest Magic in the Moonlight struggled to hold up in its second weekend, grossing $248,000 (£153,000) for $983,000 (£606,000) after ten days in play through Warner Bros. It has at least overtaken the $925,000 (£570,000) UK result of To Rome With Love.
CURZON FILM WORLD
Ida, Poland's entry for Best Foreign Language Film, started its UK run with a healthy $85,000 (£52,604) from its 16 sites, including $9,100 (£5,646) in previews, through Curzon Film World.
That marks Pawel Pawlikowski's second best-ever UK opening, behind My Summer of Love's $129,000 (£79,465) from 25 sites on its ways to the director's best-ever performance of $482,000 (£297,000).
ENTERTAINMENT
In a busy market, Entertainment's The Giver fell over 50% in its second weekend to take $83,000 (£51,065) for $517,000 (£319,001) to date.
Also for Entertainment, The Inbetweeners 2 is up to an excellent $54.1m (£33.3m) after adding $81,000 (£49,874).
PICTUREHOUSE
Playing in 25 sites through Picturehouse, 20,000 Days on Earth followed up its strong debut with a $55,000 (£33,848) weekend for $738,000 (£454,538) so far.
ARROW FILMS
A trio of new releases from Arrow Films was led by Honeymoon with a $15,000 (£9,246) debut from its exclusive release at 32 Odeon cinemas.
Human Capital and the re-issue of Salvatore Giuliano scored UK bows of $5,300 (£3,246) from two sites and $1,800 (£1,083) from three sites, respectively.
DOGWOOF
The Last Impresario, Gracie Otto's documentary about film producer and theatre impresario Michael White, posted a UK opening of $3,300 (£2,031) from its three sites through Dogwoof.
UPCOMING RELEASES
This week sees saturation releases for Fox's Gone Girl (opens Oct 2), Universal's Dracula Untold and Warner Bros' Dolphin Tale 2.
Metrodome's Soul Boys of the Western World (opens Sept 30), Koch Media's Life After Beth (opens Oct 1) and Lionsgate's Draft Day all receive wide releases, while Soda Pictures' Violette and Peccadillo Pictures' You and the Night are among the films receiving limited releases.