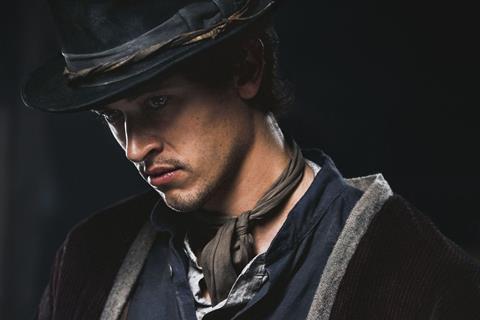 Michael Hirst's Billy The Kid, Channel 4 drama The Birth Of Daniel F Harris and HBO'sThe Baby are among nine dramas selected for the international competition of Series Mania TV festival, running March 18-25 in the northern French city of Lille.
The Birth Of Daniel F Harris is produced by the UK's Clerkenwell Films, the company behind The End Of The F**king World. Lewis Gribben plays a young man who was locked away as a child by his father following the death of his mother as a child. On turning 18, he starts to discover the outside world for the first time.
Scroll down for the full international competition lineup
Created by Siân Robins-Grace and Lucy Gaymer, horror-comedy The Baby follows a woman in her late 30s who unexpectedly finds herself in the grip of a manipulative, unplanned child. It is co-produced by HBO, Sky and Elisabeth Murdoch, Stacey Snider and Jane Featherstone's production company Sister.
UK showrunner Hirst (The Tudors, Vikings) has also been invited as a guest of honour. His new series Billy The Kid will world premiere in the international competition and he will also participate in the industry-focused Series Mania Forum.
Series Mania will showcase 55 new series over the course of eight days, selected from 330 submissions from 46 territories. 30 of them are world premieres.
The 2022 edition sees the event return in force after a difficult three years due to the Covid-19 pandemic. Its March 2020 edition was cancelled as the virus first swept into France. It returned in 2021 with a compact hybrid edition, attended mainly by French professionals, in late August.
This year's edition will also see the return of international guests with an in-person presence.
Jury members for the international competition include German actor Christian Berkel (Downfall), French Belgian actress Cécile de France (The Young Pope), Israeli actress Shira Haas (Unorthodox), Turkish director Berkun Oya (Bir Baskadir) and French singer-songwriter and model Yseult.
The jury will award the grand prize for best series as well as best actress and actor awards on March 25. The president will be announced at a later date.
Other guests of honour include French filmmaker Mathieu Kassovitz and actresses Nathalie Baye (Call My Agent) and Isabelle Nanty (Munch).
The industry-focused Series Mania Forum will run during the second part of the festival from March 22-24. Its central Co-Pro Pitching sessions will showcase 16 upcoming projects. The Lille Dialogues focused on key issues impacting the TV business in Europe and North America will take place on March 24.
The Co-Pro Pitching sessions will showcase 15 projects selected from 330 submissions from 56 countries.
Scroll down for the full selection of Co-Pro sessions titles
These 15 projects are eligible for a €50,000 award for the best project, which will be decided by a jury presided over by Warnermedia EMEA head of original production Anthony Root.
A 16th project, The Report, will also participate under a partnership with the Berlinale's CoPro Series meeting but out of competition.
The Forum also features a conference programme of panels and keynotes with confirmed speakers including France Television director of cinema and international development Manuel Alduy, Banijay head of scripted Lars Blomgren and Call My Agent! showrunner Fanny Herrero.
International competition lineup:
Billy The Kid (US) - EPIX Studios, and MGM International Television Productions, in association with NENT's Viaplay / EPIX / 8x60'
Fire Dance (Isr) - Yes TV / 8x50'
Il Re (It) - Sky / 10x50
Le Monde De Demain (Fr) - Arte / Netflix / 6x52'
Soldiers (Fr) - OCS / 7x45'
The Baby (UK) - Sky / HBO / OCS / 8x30'
The Birth Of Daniel F. Harris (UK) - Channel 4 / 6x30'
Transport (Finland) - YLE / 8x50'
We Own This City (US) - HBO / 6x60'
Co-Pro Sessions selection:
A Boy Disappears (Den)
Prod. Live Hide for Nimbus Film
Written by Julie Budtz Sørensen
Dead End (Bel)
Prod. Dimitri Verbeeck and Bert Hamelinck for Caviar Antwerp
Written by Malin-Sarah Gozin
Detective Touré (Sp)
Prod. Mariela Besuievsky and Elena Bort for Tornasol and DeAPlaneta
Written by David Pérez Sañudo, Carlos Vila
Hormones (Fr)
Prod. Alex Berger for TOP-The Oligarchs Productions and Benjamin Elalouf for Moonshaker Created by Noé Debré and Joachim Schnerf
Island Of Youth (Ger)
Prod. Daniel Hetzer for Turbine Studios
Written by Jon Atli Jonasson
Little Hands (Fr)
Prod. Caroline Adrian for Delante Productions
Written by Lou Zidi, Alexandra Bialy
Paradise (South Africa)
Prod. Nimrod Geva for Quizzical Pictures and Avi Nir (executive producer) for Keshet InternationalCreated by Darrel Bristow-Bovey and Anton Visser
Written by Darrel Bristow-Bovey
Rank (Ire, Fr and Australia)
Prod. Matthew Gledhill and Ailish McElmeel for Wheelhouse Productions and Deadpan Pictures
Written by Brendan Berne, Dillon Mapletoft and Oliver Taylor
Salvation (Hu)
Prod. Viktoria Petranyi for Proton Cinema
Written by Aniko Mangold
The Accident (Isr)
Prod. Maya Fischer for Green Productions
Written by Matan Yair
The Cuckoo Treatment (Can)
Prod by Jennifer Kawaja for Sienna Films (a Sphere Media Company)
Written by Kris Bertin and Naben Ruthnum
The Impossible She (It)
Prod. Domenico Procacci and Laura Paolucci for Fandango
Created by Simone Manetti, Federica Pontremoli and Lorenzo Sportiello
The Liberties (Ire, Bel)
Prod. by Laura McNicholas, Peter De Maegd, Cormac Fox, Brian Durnin for 925 Productions, Vico Films, Potemkino and Greenhorn Films.
Written by Gary Duggan, Brian Durnin, Pierce Ryan
The Mars Project (Ger, Fr)
Produced by Gregory Strouk and Henning Windelband for Wild Bunch and Youngfilms GmbH & Co.KG
Written by Maxime Crupaux
Directed by Patrick Tatopoulos
The Winter Pack (Swe)
Prod. Moa Westeson, Anni Fernandez and Cindy Hanson for Nevis Productions
Written by Christoffer Örnfelt
Directed by Charlotte Brändströn
The Report (Ger)
Prod. Michael Weber, Viola Fügen, Tobias Pausinger (development producer), Ben von Rönne (co-producer) for Match Factory Productions
Written by Ben von Rön