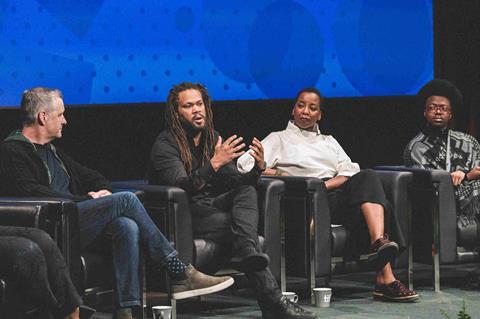 As Franklin Leonard, founder of the unproduced-screenplay forum The Black List puts it, the conventional wisdom should be that convention is not wisdom.
Speaking from his experience working with studios, Leonard voiced his dissent for Hollywood's continuing assumptions about which kinds of films can sell to a domestic and global audience.
"When people tell you things that aren't based in fact, reject them," he told an audience of industry professionals at Toronto International Film Festival this morning. "Those are the assumptions that all the decisions that result in the biases that we see in our screen are based on."
Many of those expectations fall around a film's box-office performance. Leonard says he is tired of reminding people that films with black protagonists do have potential to make money overseas: the numbers back it up.
Leonard was one of five participants in a 90-minute session focusing on the roadblocks for women and people of colour that still exist within the film industry.
Syrinthia Studer, executive vice-president of world acquisitions for Paramount, and Gaylene Gould, head of cinemas and events for BFI Southbank, homed in on the need for creators to pave their own path.
"I would urge filmmakers to look at other ways to enter into the studios, through other relationships or through other distribution models," Studer said. "As an industry, we are connected to all different ways that people can have content that can resonate."
Meanwhile, Gould used filmmakers Julie Dash (with Daughters Of The Dust) and Melvin van Peebles (with Sweet Sweetback's Baadasssss Song) as examples of directors who found less traditional modes of getting their independent films out to an audience.
"The outliers in the culture have revolutionised from the outside," Gould said. "The outliers are often the people who do end up changing the models, because they're forced to."
Leonard added that some of the biggest success stories in contemporary American cinema belong to Ava DuVernay and Tyler Perry, two filmmakers who worked outside the studio system and then had those studios come to them.
Even if indie distributors pick up great films about black characters, there is no guarantee that the studio will support the project or campaign it correctly.
A24's marketing of Moonlight, even outside of its awards-season pedigree, helped it garner a big arthouse audience, the panellists agreed. But that isn't the case every time.
Speaking of Rick Famuyiwa's Sundance 2015 hit Dope, which Open Road and Sony Pictures won in a bidding war but which sputtered on domestic release, WME Global head Graham Taylor explained that the timing and marketing wasn't quite right.
"I think somebody who generally handled distribution didn't truly quite get what the movie was and how to find its way to an audience," he said.
One common statement among the five panelists – which also included film journalist Tre'vell Anderson – was that the quality of one's film has to be peerless to stand out.
"Make something undeniable," Leonard repeated, adding that if the screenplay is exceptional, people will want to promote and hype up the project.
The founder of The Black List revealed that those submitting scripts to his website are roughly representation of the US population – a sharp contrast to the continuing disparity in whose stories are attaining prominence in the cultural sphere.
The conversation shifted to the pressure on tentpoles featuring black protagonists, from black directors, that are set to open in early 2018: Ryan Coogler's Black Panther and DuVernay's A Wrinkle In Time.
Leonard says he believes those films will do well at the box office, but that it's still going to be a challenge to get stories about minorities made with giant budgets.
As for the stories he is interested in seeing, the screenwriting guru says he is looking forward to tales about how the Trump administration is affecting minority groups.
"Muslim, Latino and LGBTQ communities are particularly vulnerable, and I think it's really important that we all do our best to support those stories," Leonard said.