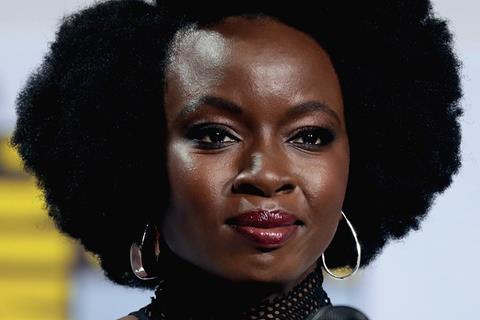 Danai Gurira from Black Panther will play the first African American US Congresswoman Shirley Chisholm in a package that UTA Independent Film Group has put together.
Cherien Dabis (Ramy, Ozark) will direct The Fighting Shirley Chisholm from a screenplay by Adam Countee.
The feature is being positioned not as a biopic but according to sources a "rousing campaign movie" that speaks to current US politics and chronicles Chisholm's historic 1972 run for the presidency.
She became the first African American candidate for a major party's presidential nomination, and the first woman to run for the Democratic Party's presidential nomination.
Chisholm's campaign inspired support from young people who sought social and political change during one of the most turbulent times in American history.
Richard Nixon was in the middle of his term at the White House and the highly controversial Vietnam War was raging thousands of miles away.
Stephanie Allain will produce The Fighting Shirley Chisholm through her Homegrown Pictures, and Gabrielle Ebron will serve as executive producer.
UTA represents Allain, Dabis, Countee and Gurira, who is managed by James Suskin. Allain is managed by Brian Dobbins. Dabis is represented by Rosalie Swedlin at Anonymous Content.
The project was announced a couple of years ago with Viola Davis set to play the lead, a different director, and the involvement of Amazon Studios. The project is no longer at Amazon.