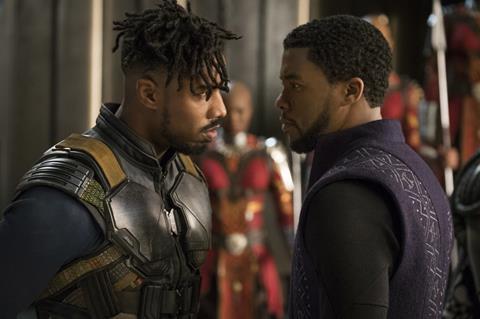 FEBRUARY 23 UPDATE: Marvel Studio's blockbuster Black Panther has soared to $520.1m worldwide heading into what is expected to be a huge second weekend.
The tentpole added $13.3m for $228.1m internationally by Friday and stood at $31.9m in the UK, $30.4m in South Korea, $13.2m in Brazil, $12.4m in Mexico, $12.2m in Australia, $11.1m in France, $8.8m in Taiwan, $8m in Indonesia, and $7.6m in Germany.
Black Panther has grossed $6.5m in Malaysia, $5.9m in Philippines and India, $5.6m in Thailand and Hong Kong, and $4.5m in Italy.
FEBRUARY 22 REPORT: Black Panther is set to pass the $500m global gross mark on Thursday (February 22) on its way to another huge weekend at the international box office.
Reaching that mark after just nine days of release, the Marvel Studios blockbuster will also have helped distributor Walt Disney Studios hit $1bn in global box office for 2018.
By the end of Wednesday, the Ryan Coogler-directed action thriller had amassed $213.6m internationally, according to Disney. Combined with a North American take of $277.5m that put the comic book-based smash at $491.1m worldwide.
The film opened in Russia on Thursday and will expand into Japan and China over the next two weeks.
Among current territories, Black Panther has now reached $30.4m in the UK, $29.5m in Korea, $12.5m in Brazil, $11.6m in Mexico, $11.6m in Australia and $10.3m in France.
Other releases boosting the Disney tally include Pixar's animated Coco, which has taken $526.5m internationally to date, and Star Wars: The Last Jedi, which has reached $710.9m after opening in all international markets.
Having opened in a slew of territories last weekend, The Shape Of Water has now taken $41.6m outside North America, according to Fox International. The Oscar contender opened in France on Wednesday (February 21) and in South Korea on Thursday.
Fox Searchlight's awards contender Three Billboards Outside Ebbing, Missouri has so far grossed $65.5m internationally and opens in India on Friday (February 23).
Fox's Maze Runner: The Death Cure has reached $207.4m after opening in all international markets and Murder On The Orient Express has arrived at $247.8m.
Fifty Shades Freed had amassed $206.1m internationally as of Thursday, with Universal Pictures International (UPI) opening the erotic drama in Korea on Wednesday.
UPI's Darkest Hour had reached $79.3m internationally by Thursday; The Post was at $16.1m, with openings in Germany and Russia on Thursday; Phantom Thread stood at $11.1m, with openings in Brazil and Italy on Wednesday; and Lady Bird had got to $2.5m, with debuts in the UK and Spain set on Thursday.
The 15:17 To Paris had got to $11.6m internationally by Thursday, according to Warner Bros Pictures International (WBPI); the studio's The Disaster Artist to $7.7m, with an opening in Italy on Wednesday; Father Figures to $5.4m in WBPI territories; and Geostorm to $187.3m.
WBPI's Game Night opens in 22 international markets this weekend, starting with Australia, Russia and 15 smaller markets on Thursday.
Jumanji: Welcome To The Jungle has now reached $530.2m internationally, according to Sony Pictures Releasing International (SPRI). SPRI opens The Leisure Seeker in China on Friday, Wendy 2 – Freundschaft Fur Immer in Germany on Thursday and Les Aventures De Spirou Et Fantasio in France on Wednesday.
STX Entertainment's Den Of Thieves opens in eight more territories this weekend after reaching an international tally of $20.9m up to and including Thursday. The crime drama with Gerard Butler hit France on Wednesday and moves into Mexico on Friday.
STX's All The Money In The World opens in Russia on Thursday and Spain on Friday. The fact-based crime thriller has so far taken $23.5m internationally.
Paramount Pictures International's Downsizing has now reached $28.4m internationally and the studio's Tadeo Jones $31.8m.