EXCLUSIVE: John Wrathall script The Italian Chapel readied for 2015 shoot.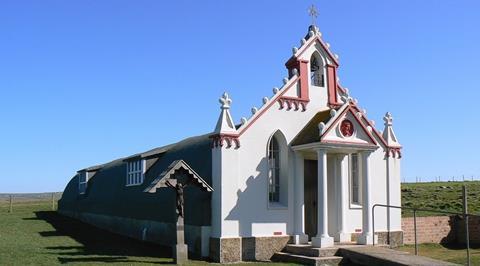 Andrew Bendel of the UK's Blue Horizon Productions and Cristiano Bortone of Italy's Orisa Produzioni are to co-produce Second World War love story The Italian Chapel.
Scheduled for a 2015 shoot, the film charts the love story between an Italian POW in Scotland and a local woman.
The original screenplay by John Wrathall was previously selected for Working Title's emerging writers scheme and has been developed by Blue Horizon with support from the BFI Film Fund.
Wrathall's credits include the original screenplay for The Liability, starring Tim Roth and Peter Mullan, and Good starring Viggo Mortensen, which screened at Toronto and was released in the UK by Lionsgate.
Set during the Second World War, The Italian Chapel - based on true events - follows a reluctant private in Mussolini's army who is captured by the British and sent to a windswept camp on an uninhabited island off the coast of Scotland.
An encounter with a local girl gives the private something to live for and awakens a new enterprise in his heart - turning a rusty Nissen hut into a beautiful chapel for the camp.
Many years later, the former POW, now happily married, returns with his wife to restore his work on the chapel, only to find his war-time flame still living in Orkney.
The building of the chapel is based on true events and the site has become a popular local tourist attraction.
Bendel, producer of 1997 comedy-drama Metroland, told ScreenDaily: "John Wrathall has created an iconic romance that is by turns funny, dramatic and ultimately very moving.
"One of the highlights of developing the film has been finding and meeting a former prisoner in Italy whose recollection of his time in Orkney has been truly inspirational."
Bendel is simultaneously developing The Homing, a thriller from The Constant Gardener writer Jeffrey Caine; the UK-Colombian comedy Bonita, from commercials director Tom Connolly; and an English-language version of Georges Simenon's The Engagement of Monsieur Hire.
Orisa, based in Italy, is known for titles including Red Like the Sky, directed by Francesco Munzi. Co-productions include Wedding Fever in Campobello and Marina, a co-production with the Dardenne Brothers' Les Films du Fleuve.