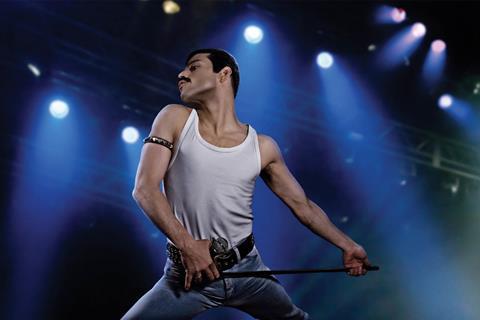 Queen biopic Bohemian Rhapsody has begun its UK box office run with a promising £1.62m opening Wednesday night (October 24).
The 20th Century Fox release played in 575 venues, giving it a site average of £2,817.
The Wednesday opening makes accurate comparisons fairly tricky, but fellow music-themed release A Star Is Born opened two weeks ago on a Wednesday with £522,000. Another recent Wednesday opener in a similar genre would be Pitch Perfect 3, which took £1m in December 2017, while The Greatest Showman took £654,000 on its opening Tuesday in that same month.
While A Star Is Born boasts the star power of Bradley Cooper and Lady Gaga, the enduring popularity of Queen cannot be underestimated.
The band originated in the UK and a Queen-themed musical – Ben Elton's We Will Rock You, which is built around their music – is the tenth longest-running musical in West End history. Crucially, the film also contains all of the key original songs.
The result for Fox looks particularly promising when you consider the shallow drop-offs that have been recorded by other music-themed films this year. Both The Greatest Showman and Mamma Mia! Here We Go Again posted consistently excellent holds throughout their lengthy runs in the UK cinemas.
The Greatest Showman played for a stunning 16 weeks in the UK, posting five upticks in box office takings throughout that time (an unusual weekend when the film takes more than in the previous weekend). In particular it was boosted by the popularity of sing-a-long screenings.
Meanwhile, Mamma Mia! Here We Go Again has become the 14th highest-grossing film in UK history with £65.5m so far this year. Now on release for three weeks, A Star Is Born has also been holding remarkably well, falling just 6% from its first to third weekends.
Fox will be hoping that Bohemian Rhapsody can deliver even bigger numbers over the weekend to propel the film to one of the year's best openings.