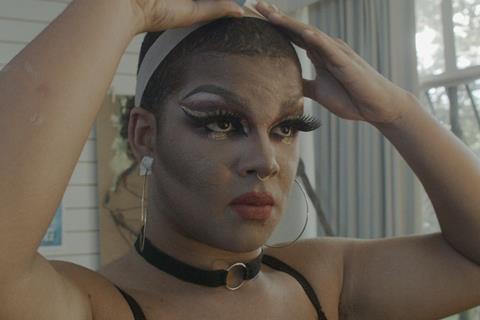 Ancine, the national film agency of Brazil, is being forced to cancel state investment in an LGBT-themed series following the personal intervention of the country's far-right president Jair Bolsonaro.
TV series Afronte, based on a short documentary film co-written and co-directed by Bruno Victor and Marcus Azevedo, about a gay black man who lives in the suburbs of the capital Brasilia, has had its approved financing grant from the Ancine-administered FSA fund withdrawn.
Bolsonaro criticised projects with "sexual diversity content" in a Facebook Live appearance last week. The president said he did not understand the need to make a production "to show the reality lived by black homosexuals in Brasilia or the private life of whoever it is". He announced the project had "got sacked".
"I feel very vulnerable to realise I produce content the president does not tolerate,'' said Victor, who was in line to receive $99,000 (BRL $ 400,000) for the five-episode series. "It is important to state Bolsonaro's act is a kind of censorship. He spoke of our project with ignorance and lack of respect for all professionals involved in it."
The president also mentioned three further TV projects in the same speech: Transversais, which he described as the story of "dreams and achievements of five transgender people living in Ceará", Reverse Sex, which would address "group sex, oral sex, and certain sexual positions", and Religare Queer, which follows a "former lesbian nun".
All three were at the application stage.
The president's comments suggest his aim is to cancel funding for all LGBT-themed productions that would have benefited from Ancine's $17.3m (BRL 70m) TV fund announced in March 2018.
No film projects have yet been mentioned but the industry expects the same censorship to extend to features.
What is known is that the Ministry of Citizenship, which oversees Ancine, will publish a decree to suspend the transfer of the resources to this particular selection of TV projects for the next six months, with the possibility of extension for another six.
This gives the government the time to review the projects in line to receive FSA funding and also to reformulate the composition of the fund's management committee.
Given Bolsonaro's latest remarks, the Association of Independent Audiovisual Producers (API) has issued a note: "We repudiate such an attitude because we understand that it is not up to anyone, especially the president of a democratic republic, to censor art, audiovisual projects and films."
Ancine did not respond to Screen's request for a comment.