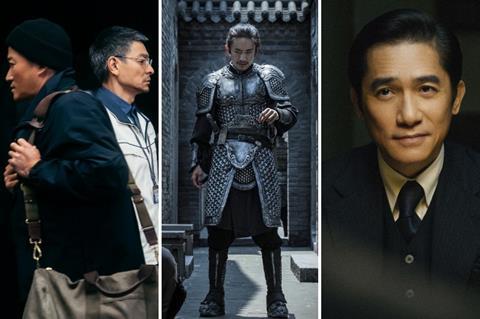 Wandering Earth 2, Full River Red and Hidden Blade are leading the box office race for Chinese New Year since tickets went on sale last weekend, with stars Shen Teng, Tony Leung Chiu-Wai and Wu Jing set to slug it out in cinemas across China.
Seven local films have been cleared for release during the highly coveted and crowded festive season, with all but one opening on January 22, the first day of the lunar new year. Since ticket sales began on Saturday (January 14), the total presale is approaching $51.6m (RMB350m) at time of press, according to box office data from online ticketing platform Maoyan.
Advance bookings show that the three frontrunners are closely matched on the opening day (January 22), with each taking around $8.9m (RMB60m). Wandering Earth 2 is tracking as number one, followed closely by Full River Red and Hidden Blade. As the presale numbers are constantly changing, it is too early to tell which title will become the box office champion.
However, a major concern is that Covid-19 cases are rising and appear to have hit new highs, following an abrupt U-turn of China's signature zero-Covid policy. This may impact cinema attendance if audiences choose to remain at home.
Nevertheless, Chinese New Year maintains its status as one of the most coveted release windows. Last year, box office during the lucrative period was spearheaded by patriotic war drama The Battle At Lake Changjin II, which went on to $594.75m (RMB4.07bn) and become the top grossing film of 2022. The top titles from Chinese New Year 2021 were time-travel comedy Hi, Mom ($797.6m/RMB5.41bn) and crime comedy Detective Chinatown 3 ($666.77m/RMB4.52bn) ended up as that year's second- and third-highest grossing films.
Anticipated prequel
In 2019, Wandering Earth became China's first breakout sci-fi hit when it topped the Chinese New Year box office with $690.8m (RMB4.69bn). Expectations are therefore high for Wandering Earth 2, which is a prequel that sees actor Wu Jing reprise his role as an astronaut tasked with saving mankind from annihilation and reuniting with director Frank Gwo. Andy Lau joins the cast, making a special appearance as a scientist, while Hugo award-winning novelist Liu Cixin steps up as producer and the China Film Company serves as the main backer again.
Among the new films, Wandering Earth 2 tops the "want to watch" chart, accumulating more than 1 million clicks on Maoyan's ticketing app. This unofficial data is often seen as a good index of audience expectations for upcoming films. Unlike Full River Red and Hidden Blade, which were given just a few weeks notice of their release, Wandering Earth 2 has benefited from a rare, long lead time as its release date was publicised even before filming started in late 2021 – a date that was reconfirmed at a high-profile press conference last November.
The early endorsement also facilitates overseas distribution. The film will open day-and-date in Malaysia through Mega Films Distribution and Singapore through Shaw Organization on January 22.
"It's very rare – the first in several years – to get a day-and-date Chinese New Year release with China for such a large-scale production," Jason Siu told Screen. Siu is general manager of production and project development for Hong Kong-based Emperor Motion Pictures, which is a co-presenter of Wandering Earth 2 and handles the international sales for Southeast Asia.
Comedy, thrillers and animation
Full River Red by veteran director Zhang Yimou is a period suspense comedy set in the Southern Song dynasty and revolves around the murder of an envoy and a lost letter. The cast is led by Shen Teng, one of China's most bankable actors last seen in hit sci-fi comedy Moon Man, and Jackson Yee who has been featured in the two Battle At Lake Changjin films and Nice View since his acting debut in Better Days. Huanxi Media is the main producer.
Director Zhang, who is in his 70s, has remained prolific throughout the Covid pandemic. Last year saw the release of two of his films: Snipers, co-directed with his daughter Zhang Mo, which earned $90m (RMB608m) from Chinese New Year; and Cliff Walkers ($176.27m/RMB1.19bn).
Set in the 1940s, Cheng Er's espionage thriller Hidden Blade also boasts a stellar cast, with the return of Tony Leung Chiu-Wai in his first Chinese-speaking role in five years, having last been seen in Marvel's Shang-Chi And The Legend Of The Ten Rings. The film was shot in Shanghai in the second half of 2021 during the Covid pandemic, Leung told Screen last September ahead of receiving Busan Film Festival's Asian Filmmaker Award of the Year.
Director Cheng has shown flair for the crime thriller genre, having directed The Wasted Times and Lethal Hostage. With renowned actress Zhou Xun making a special appearance, Hidden Blade also marks the first film starring Wang Yibo from popular boyband Uniq to get a release. Another of the singer's films, Born To Fly, was withdrawn from the National Day holiday last September and has been rescheduled for April 28. Hidden Blade is backed by the Bona Group with Distribution Workshop handling international sales.
Rounding out the Chinese New Year line-up are two animations: Deep Sea by Tian Xiaopeng, the director of 2015's box office hit animation Monkey King: Hero Is Back, which will receive its international premiere at the Berlinale next month; and Boonie Bears: Guardian Code, the latest instalment of the popular franchise, which has been a regular fixture for many Chinese New Year's.
Further titles include body-swap comedy Five Hundred Miles, directed by Su Lun (How Long Will I Love You), starring Lei Jiayin, who is also in Full River Red, and Zhang Xiaofei of Hi, Mom.
The only title that will not open on Sunday is Ping Pong Of China, which is a late addition with its release date only confirmed on January 6. It was originally dated for January 22 but shifted to January 24 just a few days ago. The table tennis sports drama is co-directed by actor-director Deng Chao and screenwriter Yu Baimei, who both previously co-directed 2019's Looking Up. Deng also stars in the film along with his wife Sun Li and Xu Weizhou.