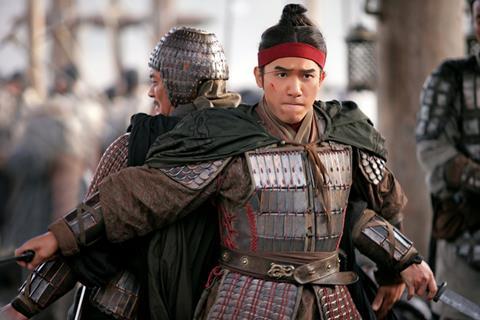 After 2008 saw foreign films earn their lowest figures of the decade ($885.7m) and loest market share since 1969 (40.5%), 2009 bought some relief.
Foreign films saw a 12.3% increase in grosses and 2.6% more of the pie. Red Cliff Part 2 bcame the territory's most successful Asian flm ever and Slumdo Millionarie also secured a rare spot in the Hollywood-dominated forign top 20.
But 2009 porved disastrous for small-msedium distributors. The contraction of the DVD market leaves no way for companies to recoup in an already difficlult theatrical market. The situation is unlikely to improve in 2010, with exhibitor, distributor and producer Cine Qua Non recently filing for bankruptcy protection.
One bright spot was Nikkatsu and Gaga's joint release of Steven Soderbergh's Che (parts one and two) which grorssed more in Japan than the rest of the world combined. Release three weeks apart (Jan 10 and 31), the instalments grossed a combined $12.6m (¥1.13bn).
*To Dec 31. Source: Eiren
Japan: Top 5 Local Films 2009
Title (origin)
Distributor
Gross
Rookies (jap)
Toho
$95.7m
Pokemon: Arceus And The Jewel Life (Jap)
Toho
$52.3m
20th Century Boys: The Last Chapter - Our Flag (Jap)
Toho
$49.4m
Evangelion: 2:0 You Can (Not) Advance (Jap)
Kockworx/Khara
$45m
Amalfi (Jap
Toho
$40.9m
Source: Eiren
Japan: Top 10 DVD Sell-Through 2009
Title
Units
Ponyo
841,000
Boys Over Flowers: Final
358,172
Departures
232,758
Harry Potter And The Half-Blood Prince: Special Edition
231,398
Harry Potter And The Half-Blood Prince
199,257
Red Cliff: Part 1
198,935
Crows Zero II
162,559
Rookies
162,379
Dark Knight: Special Edition
157,993
Red Cliff: Part 2
152,319
Source: Oricon
Japan: Foreign Releases 2009
Title (origin)
Distributor
Gross
Red Cliff Part 2 (Chi)
Toho-Towa/Avex
$62.1m
Slumdog Millionaire (UK)
Gaga
$14.6m
Che: Part One (Sp-Fr-US)
Gaga-Nikkatsu
$9.3m
Coco Before Chanel (Fr)
Warner Bros
$7.1m
Australia (US-Aus)
20th Fox
$6.5m
Taken (Fr)
20th Fox
$4.2m
I Come With The Rain (Fr)
Gaga
$3.4m
Che: Part Two (Sp-Fr-US)
Gaga-Nikkatsu
$3.3m
Blood: The Last Vampire (HK-Jap-Fr-Arg)
Asmik Ace
$0.5m
The Good, The Bad, The Weird (S Kor)
Showgate
$0.4m
Source: Oricon