Universal's animation dethrones Sex Tape with $3.3m (£2m), including previews; Fox/Pathe's Pride opens with non-final $1.2m (£714,119) from 491 sites.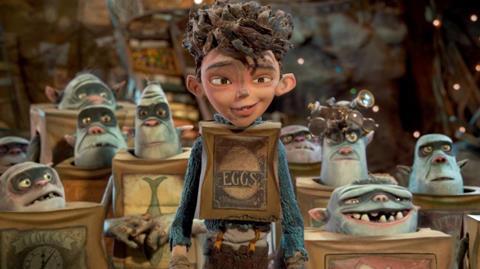 Having taken $1.1m (£689,000) from previews last weekend [Sept 6-7], The Boxtrolls has debuted top of the UK box office.
Universal's animation scored an overall debut of $3.3m (£2m), with its Fri-Sun tally of $2.1m (£1.3m) also good enough for top spot on its own.
In terms of Laika animations, The Boxtrolls bowed ahead of ParaNorman ($2.3m/£1.4m) but behind Coraline ($3.9m/£2.4m). However, ParaNorman didn't have previews and Coraline took just over $1.7m (£1m) in previews, meaning that based solely on Fri-Sun figures, The Boxtrolls has the lowest opening weekend of the three.
Coraline is the strongest performer to date for Laika with $12.1m (£7.43m) and The Boxtrolls will likely have to rely on sturdy weekend holdovers to challenge that.
Completing a Universal one-two at the top of the chart, Lucy held firm in second with $1.3m (£810,000) after falling just 33% in its fourth weekend. Luc Besson's best-ever UK performer is now up to a strong $19.5m (£12m).
FOX
Despite strong reviews, Pride posted a somewhat disappointing non-final UK opening of $1.2m (£714,119) from its 491 sites, including previews of just over $98,000 (£60,000).
The Pathe release (distributed by Fox in the UK) opened along the lines of Made in Dagenham ($1.1m/£674,059 from 354) rather than Calendar Girls ($2.9m/£1.8m from 462). The former went on to make $6m (£3.67m), while the latter took $33.2m (£20.43m).
Pride will be hoping for healthy midweek returns to land somewhere in between the two of those tallies.
Also for Fox, Let's Be Cops dropped a slim 25% in its third weekend to add $776,000 (£477,314) for $6.5m (£4m) to date, while Finding Fanny recorded a $185,000 (£113,692) debut from its 50 sites.
How to Train Your Dragon 2 and Dawn of the Planet of the Apes have reached $39.4m (£24.3m) and $52.9m (£32.5m), respectively.
SONY
Last week's champion Sex Tape fell to fourth with $1.1m (£672,000), a respectable drop of 31% (excluding previews). Without Pride's previews, Sex Tape would have charted third.
Sony's comedy is now up to $4.4m (£2.7m), but is likely to fall short of director Jake Kasdan's best-ever UK performer, Bad Teacher's $12.5m (£7.7m).
EONE
Rounding off this week's top five was another new entry in the form of eOne's A Most Wanted Man with a $991,000 (£609,722) bow from 413 sites.
That marks director Anton Corbijn's best-ever UK bow and puts the spy thriller in a position to be his best-ever UK performer too, currently The American's $2.1m (£1.3m).
Tinker Tailor Soldier Spy remains the John le Carré benchmark at the UK box office with its $4.6m (£2.8m) debut from 382 sites and $23.1m (£14.2m) tally.
Also for eOne, The Hundred-Foot Journey grossed $707,000 (£434,923) for $2.7m (£1.7m) after ten days in play.
STUDIOCANAL
Before I Go to Sleep recorded a second weekend of $873,000 (£537,991) from its 374 sites to become director Rowan Joffe's best-ever UK performer. StudioCanal's adaptation is up to $3.1m (£1.9m).
DISNEY
Guardians of the Galaxy should become 2014's strongest comic book performer after a slight drop of 25% in its seventh weekend saw it add $834,000 (£513,000) for $43.3m (£26.64m) through Disney.
X-Men: Days of Future Past currently holds that record with $44m (£27.1m).
ENTERTAINMENT
As expected, The Inbetweeners 2 is now the second biggest film of the year at the UK box office.
Entertainment's comedy sequel took an additional $541,000 (£332,945) for a terrific $53.5m (£32.9m), overtaking Dawn of the Planet of the Apes.
ICON FILM DISTRIBUTION
Falling around 50% in its second weekend, Icon Film Distribution's The Guest took a further $220,000 (£135,471) from its 240 sites for $1.1m (£668,187).
It will likely check out of the UK box office with a gross less than You're Next's $1.9m (£1.2m), currently director Adam Wingard's best-ever UK performer, barring a surge.
STRAY DOG FILMS
The screen adaptation of hit play One Night in Istanbul is off to an excellent start at the UK box office, opening with $83,000 (£51,004) from its 12 sites through Stray Dog Films for a terrific average of $6,903 (£4,250), including $58,000 (£35,974) from two days of previews on Weds and Thurs.
LIONSGATE
Sin City: A Dame to Kill For is up to $2.9m (£1.8m) in the UK through Lionsgate following an $82,000 (£50,424) third weekend.
WARNER BROS
In its 29 IMAX sites through Warner Bros, the 3D re-release of The Wizard of Oz recorded a $69,000 (£42,478) UK debut.
Also for Warner Bros, If I Stay and Into the Storm have amassed $2.2m (£1.4m) and $4.4m (£2.7m), respectively.
METRODOME
Including previews, Metrodome's In Order of Disappearance grossed $48,000 (£29,656) from its 24 sites on its UK bow.
SODA PICTURES
Playing on select shows through Soda Pictures, re-release Down By Law and A Spell to Ward Off the Darkness posted UK debuts of $6,100 (£3,772) from five sites and $1,600 (£985) from four sites, respectively.
UPCOMING RELEASES
This week sees saturation releases for Universal's The Riot Club and Entertainment's The Giver, while Koch Media's Wish I Was Here, Sony's Think Like a Man Too, eOne's A Walk Among the Tombstones and Warner Bros' Magic in the Moonlight all receive wide releases.
Picturehouse's 20,000 Days on Earth, Icon Film Distribution's Grand Piano and StudioCanal's The Kidnapping of Michel Houellebecq are among the films receiving a limited release.