As usual, the Screen jury grid provides an intriguing and debate-worthy pointer to some of the key films in competition at this year's Berlin Film Festival.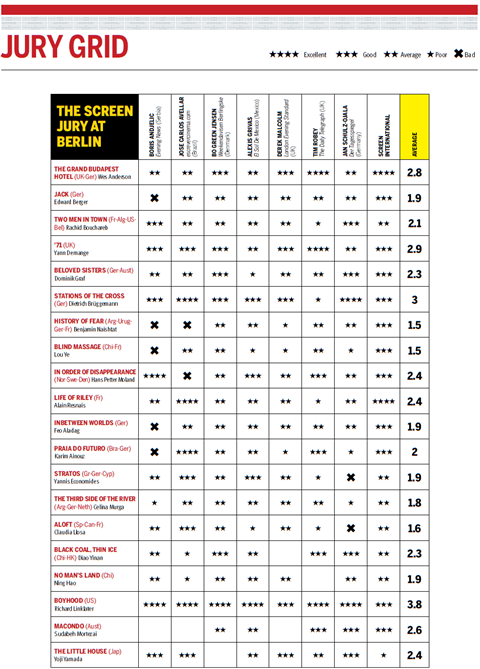 The late festival screening of Richard Linklater's Boyhood (already a Sundance critical success) with a 3.7 average - granted with a couple of our critics still to provide a rating - comes as no real surprise, and could well hint towards this year's Golden Bear winner.
The other strong contenders this year are Yann Demange's debut film '71 with a 2.9 rating, which led the pack for a long time and Wes Anderson's lush festival opener The Grand Budapest Hotel, which scored 2.8.
There seems to have been a general feeling of something of a competiton lull after a strong 2014, and while there was much appreciation for films such as Dietrich Bruggemann's Stations Of The Cross (a possible Best Actress award for Lea van Acken), which led the chart for a while; Hans Petter Moland's In Order Of Disappearance (a strong contender for Best Screenplay) and veteran director Alain Resnais' Life Of Riley (much loved by some Berlin regulars but receiving a bemused response from others), it is clear this Berlin was all about a strong opening, slow middle and a fine climax.
There seems to have been a few real disappointments – much anticipated films from Lou Ye (Blind Massage) and Claudia Llosa (Aloft) failed to excite our critics, while Benjamin Naishtat's History Of Fear and Ning Hao's No Man's Land seems to have split opinion – though the arrival of LInklater's Boyhood at the end of the festival seems to have restored critical faith.
REVIEWS: Berlin Competition 2014