Robin Campillo's Aids activism drama BPM (Beats Per Minute) leads the nominations for the 23rd edition of the Lumière Awards, France's equivalent of the Golden Globes, which were unveiled on Monday (Dec 11).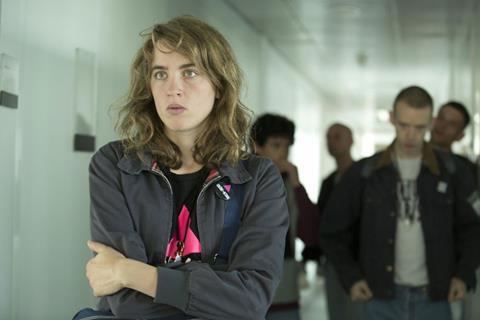 The film, capturing the activities of the Paris-branch of the Aids advocacy group ACT UP in the early 1990s, garnered six nominations including best film, actor and screenplay.
Its young co-stars Nahuel Pérez Biscayart and Arnaud Valois were nominated in the best actor and best male revelation categories respectively. Arnaud Rebotini's score was also nominated.
Roughly one hundred French films released theatrically in France in 2017 were initially in the running for a nomination. The winners will be decided by the 80 Lumière Academy members, who hail from more than 30 countries.
Other films leading the nominations including Barbara, Mathieu Amalric's multi-layered feature revolving around a director's attempts to make a bio-pic about iconic French singer Barbara, which was nominated in the best film and director categories. The film's star Jeanne Balibar was also nominated for her performance.
This year's documentary category nominations include Agnes Varda and street artist JR's Oscar-nominated Places Faces and Cannes Film Festival chief Thierry Frémaux's Lumière!, Inventing Cinema, exploring the works of cinema pioneers Auguste and Louis Lumière.
The Francophone film category, for international titles with strong French links, features a number of festival favourites including Kaouther Ben Hania's Beauty And The Dogs and Philippe Van Leeuw's Insyriated.
The full list of nominations:
Film
BPM, dir. Robin Campillo
See You Up There, dir. Albert Dupontel

Barbara, dir. Mathieu Amalric

Félicité, dir. Alain Gomis
Orphan, dir. Arnaud des Pallières
C'est La Vie, dir. Eric Toledano and Olivier Nakache
Director
Mathieu Amalric (Barbara)
Robin Campillo (BPM)
Laurent Cantet (The Workshop)
Philippe Garrel (Love For A Day)
Alain Gomis (Félicité)

Michel Hazanavicius (Redoutable)
Actress
Hiam Abbass (Insyriated)
Jeanne Balibar (Barbara)
Juliette Binoche (Let The Sunshine In)
Emmanuelle Devos (Number One)
Charlotte Gainsbourg (Promise At Dawn)
Karin Viard (Jalouse)
Actor
Swann Arlaud (Bloody Milk)
Daniel Auteuil (Le brio)

Jean-Pierre Bacri (C'est La Vie)
Louis Garrel (Redoutable)
Reda Kateb (Django)
Nahuel Pérez Biscayart (BPM)
Screenplay
Christelle Berthevas, Arnaud des Pallières (Orphan)
Robin Campillo, Philippe Mangeot (BPM)
Albert Dupontel, Pierre Lemaitre (See You Up There)
Karim Moussaoui, Maud Ameline (Until The Birds Return)
Eric Toledano, Olivier Nakache (C'est La Vie)
Cinematography
Christophe Beaucarne, Barbara Céline Bozon (Félicité)

Caroline Champetier (The Guardians)
Alain Duplantier (Le semeur)
Irina Lubtchansky (Ismael's Ghosts)
Vincent Mathias (See You Up There)
Male revelation
Khaled Alouach (De toutes mes forces)
Matthieu Lucci (The Workshop)
Nekfeu (Tout nous sépare)

Finnegan Oldfield (Reinventing Marvin)
Pablo Pauly (Patients)
Arnaud Valois (BPM)
Female Revelation
Iris Bry (The Guardians)
Laetitia Dosch (Montparnasse Bienvenue)

Eye Haïdara (C'est La Vie)
Camélia Jordana (Le brio)

Pamela Ramos (Tous les rêves du monde)
Solène Rigot (Orphan)
First Film
Les bienheureux, dir. Sofia Djama

Until The Birds Return, dir. Karim Moussaoui
Raw, dir. Julia Ducournau

Montparnasse Bienvenue, dir. Léonor Serraille

Patients, dir Grand Corps Malade and Mehdi Idir
Bloody Milk, dir. Hubert Charuel
Francophone film
Before Summer Ends, dir. Maryam Goormaghtigh

Beauty And The Dogs, dir. Kaouther Ben Hania

A Wedding, de Stephan Streker

Lost In Paris, de Dominique Abel and Fiona Gordon
Insyriated, dir. Philippe Van Leeuw
Animation Film
Tall Tales: The Magical Garden, dir Antoon Krings and Arnaud Bouron

The Big Bad Fox And Other Tales, dir. Benjamin Renner et Patrick Imbert
Zombillenium, dir. Arthur de Pins and Alexis Ducord
Documentaire
Carré 35, dir. Eric Caravaca

Lumière!, dir. Thierry Frémaux
Makala, dir. Emmanuel Gras

Sans adieu, dir. Christophe Agou

The Venerable W., dir. Barbet Schroeder

Faces Places, dir. Agnès Varda and JR
Musique
Gaspar Claus (Makala)
Angelo Foley et Grand Corps Malade (Patients)
Grégoire Hetzel (Ismael's Ghosts)
Igorrr (Jeannette)
Arnaud Rebotini (BPM)
Philippe Rombi (Amant double)