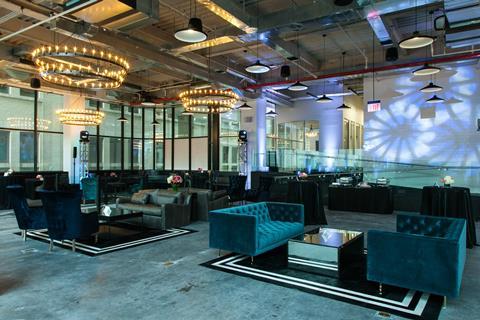 Breaker is partnering with Screen International on a series of conferences called Screenbreaker, set to start in New York this April. Further locations will be announced later.
The series will explore business opportunities created by the intersection of blockchain and entertainment and look at how the technology is disrupting sectors including film, media, music, and gaming.
The first event, Screenbreaker NY, will take place in New York from April 26-27 at The Mezzanine (pictured) when more than 300 individuals and exhibitors are expected to attend a series of panels, fireside chats, keynotes and networking sessions.
Among the topics under discussion will be jobs of the future, decentralisation and tokenisation models, the role of festivals and awards ceremonies in a rapidly evolving landscape, gaming on blockchain, and issues concerning the law, and rights and royalties and revenues.
Breaker co-founders Kim Jackson (producer and president of entertainment) and Zach LeBeau (CEO) will deliver keynote speeches. Confirmed panellists and speakers include producer Geoff Clark from Futurism, Creative Crypto's director of operations Michael Lee, and Snark Art COO Fanny Lakoubay. Additional speakers will be announced via social media on a bi-weekly basis up until the launch of the event.
The conference will also showcase films by Alex Winter (Trust Machine), Eddie Alcazar (Perfect), and Zeek Earl and Chris Caldwell (Prospect). Musical performers for both nights will be announced in early April.
Screenbreaker will launch a channel on Breaker's blockchain-powered VOD platform showcasing artist and filmmakers from the Screenbreaker event series.
The conference series will also take place in key international markets in 2019 and 2020. Click here to find out about tickets.