EXCLUSIVE: Wildgaze Films is developing a TV spin-off to Oscar and BAFTA-nominated Brooklyn, the company's producers Finola Dwyer and Amanda Posey have confirmed to Screen.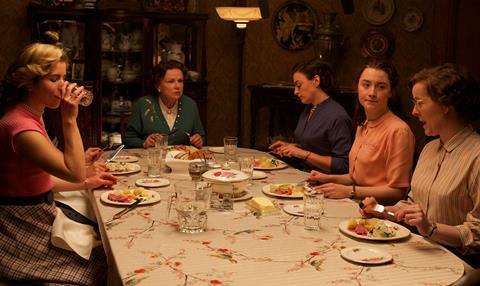 The feature, a UK-Ireland-Canada co-production, was adapted by author-screenwriter Nick Hornby from Colm Toibin's novel of the same name about an Irish immigrant (Saoirse Ronan) who finds work and romance when she lands in 1950s Brooklyn. John Crowley directed.
The TV version that Posey and Dwyer are developing will revolve around the boarding house for young women run in the film by Julie Walter's character, Mrs Keogh, and feature the same group of Irish, English and American girls.
"I suggested the idea to Colm quite early on, before there was even a first draft for the film," Dwyer told Screen.
While it is unlikely that Ronan would return as Eilis, the Wildgaze team are confident that Walters, who is nominated in BAFTA's supporting actress category, will reprise her role for the series, which is in early development with the BBC's drama department.
BBC drama commissioner Lucy Richer first expressed interest in a standalone series when Posey and Dwyer screened the film in London following its 2015 Sundance premiere.
"We're talking to writers now and have a couple in our sights," confirmed Dwyer, who said the project will not have a firm timeline in place until the film completes its theatrical and home-entertainment journey.
Brooklyn is still on release and has grossed $8m to date in the UK and Ireland for Lionsgate UK, and $30.4m so far in the US for Fox Searchlight.
The full interview with Dwyer and Posey will be published on ScreenDaily tomorrow (Feb 5).