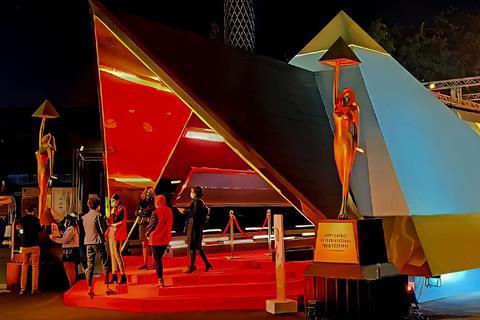 The Cairo International Film Festival (CIFF) has brought forward the dates of its 43rd edition to November 26 to December 5, from the previously announced slot of December 1-10.
The move follows a shift in dates in June by the inaugural edition of Saudi Arabia's Red Sea International Film Festival (RSIFF) to December 6-15, from a previously announced November slot.
"The decision to bring forward the 43rd edition came after a deep look at the international and Arab film festivals agenda, with the hope that the new dates will allow journalists and filmmakers to attend the various festivals and engage with the latest productions and cover the different events," said CIFF in a statement.
Other film festivals unfolding in the Middle East and North Africa this autumn include Egypt's El Gouna Film Festival, running October 14-22, Tunisia's Carthage Film Festival, which has set October 30-November 6 dates, and Qatar's Ajyal Film Festival, scheduled for November 7-19. The Marrakech International Film Festival has yet to confirm its dates.
New artistic director
Additionally, Egyptian film critic Andrew Mohsen has been appointed as CIFF's artistic director, working alongside festival president Mohamed Hefzy. Mohsen has collaborated with Cairo since 2016, serving as the head programmer of its Cinema of Tomorrow Competition for short films for three editions.
He also worked as artistic director of the Ismailia Festival for Documentary and Short Films in 2018, and also as artistic director of the Aswan International Women's Film Festival in 2020 and 2021.
Mohsen will be joined by film critics Ramy Abdel Razek as director of the Horizons of Arab Cinema competition, and Ossama Abdel Fattah as director of the International Critics Week competition.
Marouan Omara has been appointed director of the short films competition while Maggie Morgan has been named as programmer for Eastern European films, Rasha Hosny as programmer for Asia-Pacific films and Youssef Hisham as programmer for North and South American films.