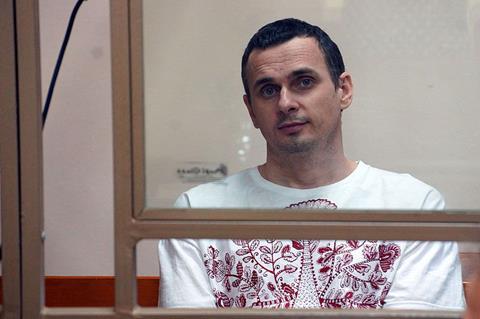 The European Film Academy is planning a vigil for detained Ukrainian director Oleg Sentsov opposite the Russian Embassy in Berlin on Tuesday (July 10).
Concern is growing for the life of the filmmaker who has been on hunger strike in a remote Arctic prison camp for eight weeks in protest at his detention and that of some 70 compatriots in Russia.
The Berlin-based body, presided over by director Wim Wenders, called on supporters to join the vigil from 17.00 - 18.00 local time on the city's famous Unter den Linden boulevard on which the building is situated.
"Don't Let Oleg die! The Ukrainian Filmmaker Oleg Sentsov has been on hunger strike for eight weeks – We ask for his immediate release!," the academy said in a statement on Monday.
Sentsov was arrested in his home in the contested region of Crimea by Russian security forces in May 2014. Prior to his detention, he had been involved in the pro-European Euromaidan protests in the Ukrainian capital of Kiev in 2013 and was strongly opposed to Russia's subsequent occupation of the Crimea in 2014.
The director was sentenced by a Russian military court in 2015 to a 20-year prison sentence on terrorism charges he strongly refutes.
"Although the key witness had retracted his testimony as given "under duress", the trial, based on the accusation of Oleg Sentsov having committed 'crimes of a terrorist nature', was continued, and Oleg Sentsov was sentenced to 20 years in prison. On 14 May, the director and father of two children went on hunger strike," said the academy.
"We are deeply worried so once again we ask that his safety is ensured and that he be released immediately and unconditionally!," it added.
The EFA's vigil is among a raft of initiatives from across the European film industry aimed at raising awareness of Sentsov's plight and calling for his release
On Monday, the International Film Festival Rotterdam (IFFR) launched a charity digital release of Sentsov's debut feature Gamer, about a video game champion hailing from a small Ukrainian village, on its IFFR Unleashed platform. The film originally premiered at IFFR in 2012.
"In an attempt to support a friend of the festival and an excellent filmmaker in a dire situation, International Film Festival Rotterdam directs all pay-per-view revenue towards supporting the filmmaker's case," the festival said in a statement.
"We sincerely hope that watching Gamer will motivate people even more in their actions for Sentsov's freedom."
Elsewhere across Europe, a number of French film bodies stepped up campaigns calling for Sentsov's release late last week.
On Friday (July 6), France's Société des Réalisateur de Films (SRF) put out a strongly-worded statement calling for his release, delivered by Cannes Palme d'Or winner Jacques Audiard in a taped video statement. http://www.la-srf.fr/article/appel-%C3%A0-la-lib%C3%A9ration-imm%C3%A9diate-doleg-sentsov.
The directors' body said if Sentsov were to die, his death would be "another terrible setback for Europe", a Europe that Sentsov "dreamed and fought for his country to join".
"If Oleg Sentsov dies today, it is not only [Russian president] Vladimir Putin but France, Germany, and Europe as a whole that would be stained with his blood," read the SRF statement. "So we call on Europe and the rest of the world to use every means in their possession to obtain the immediate release of Oleg Sentsov."
More than 20 European film academies meeting under the auspices of FAN, the network of national film academies and the EFA on fringes of the Karlovy Vary Film Festival, also put out a statement on Friday calling for Sentsov's release, calling on Putin and the Russian authorities "to finally show a human face and to release Oleg Sentsov immediately."
In Russia, meanwhile, a group of musicians and artists led by rock star Andrey Makarevich, the Russian equivalent of Paul McCartney, staged a concert in Moscow on Friday, in solidarity for Sentsov.