Amid Canal Plus shake-up, parent company Vivendi ups stake in video games companies Ubisoft and Gameloft.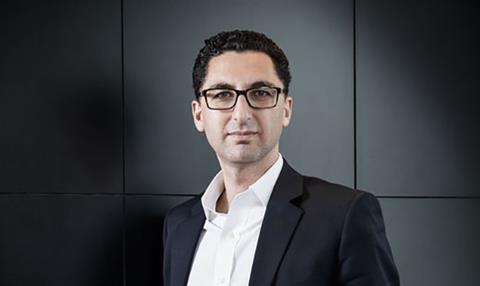 New Canal Plus CEO Maxime Saada has put out a call to the French cinema world to produce more action and adventure pictures and crime thrillers to fill the gap left by the US Studios' focus on superheroes and teenage audiences.
Speaking at a debate on the future of French cinema at the 25th edition of the Rencontres Cinématographiques de Dijon, running Oct 22-24, Saada said he was worried by the lack of mainstream films for older audiences in the pipeline.
"Through the agreements we have with most the US studios, we get to see their line-ups into 2018 and 2019. It's all heavily-skewed towards superheroes and adolescent audiences and this isn't going to change anytime soon," said Saada.
He said there was real demand for French genre pictures aimed an older audience.
"Our subscribers aren't teenagers, well some of them are, but they're not the ones paying the subscription fees," he said.
"I have a sense that French cinema has a complex about certain genres — adventure and action pictures, 'polars' – even though this is what French audiences want," he said. "At the moment these types of films are very much the domain of Americans but there's no reason why this should be the case," he said.
From Henri-Georges Clouzot's 1950s The Wages of Fear and Les Diabolques and Jean-Pierre Melville 1960s Le Doulos and Le Samouraï to American, France-based Bob Swaim's La Balance and Mathieu Kassovitz's The Crimson Rivers in 2000, France has a long and illustrious history in making crime thrillers.
But the genre has fallen out of favour among French filmmakers in recent years although crime continues to flourish on the small screen with series like Spiral and Witnesses.
There are also very few French producers and directors, aside from Luc Besson, working on action and adventure pictures.
"Producers tell us they don't make these sorts of pictures because they don't work in the cinema but whenever we run a thriller or detective story on Canal Plus it's nearly always a success… our subscribers want something different from the usual offering," commented Saada.
Gaumont's international sales chief Cecile Gaget, who was also on the panel, seconded Saada's comments.
"It's been nearly two years since we've had a French action film or thriller in cinemas, because people say they don't work, but I always try to have at least one or two genre titles on our slate each year, not just because I have a penchant for genre, but also because these genre works well internationally," she said.
Canal Plus charm offensive
Friday's debate was Saada's first public address to the French film world since his appointment in July as CEO of Canal Plus, replacing former boss Rodolphe Belmer.
His promotion was part of an on-going shake-up of the French pay-TV giant being spearheaded by Vincent Bolloré, the billionaire majority shareholder of the channel's parent company Vivendi.
Another round of hirings and firings took place in September, notably Didier Lupfer was hired from video game giant Ubisoft as head of cinema at Canal Plus and film subsidiary StudioCanal, replacing Nathalie Coste-Cerdan and Olivier Courson respectively.
The French film world is still trying to figure out what the changes mean in terms of Vivendi and Canal Plus's commitment to cinema.
Canal Plus' French and European film investment is fixed by law at 12.5% of subscriber and advertising revenues until 2019 but many independent producers fear that auteur and riskier films will be left out in the cold in the new Bolloré era.
Bolloré and the channel's new film team have been on a charm offensive to get the cinema world on their side over the last two weeks.
The Vivendi chief, who is also Canal Plus's chairman, unexpectedly attended a bi-annual investment obligations meeting between Canal Plus and the producer guilds in mid-October at which he reaffirmed the group's commitment to French cinema, saying he wanted to go beyond its legal obligations, and also briefed them on his larger plans for the channel.
The film team was also out in force at ARP's Dijon meeting. Aside from Saada's participation in the debate, Canal Plus hosted the opening night party with Lupfer in attendance too.
Saada's comments on Friday, however, appeared to suggest a shift to more mainstream fare although he also reaffirmed the channel's commitment to film saying that 85% of subscribers signed up for the cinema offering.
Not everyone in the audience was convinced by what he had to say, with one producer imploring Canal Plus not to abandon "auteur cinema".
Vivendi eyes Ubisoft
In the backdrop, Vivendi appears to be muscling in on Lupfer's old employer Ubisoft, where he was in charge of Ubisoft Motion Pictures, set up to adapt its video game properties like Assassin's Creed and Les Lapins Crétins for the big screen.
As the Dijon meeting kicked off, the French press was reporting that Vivendi had put €280m on the table to take a 10% stake in Ubisoft and sister company Gameloft, making it their biggest shareholder ahead of Fidelity Investments and the family of founder Yves Guillemot.
The latter is reported to be unhappy about Vivendi's move and has declared that he wants Ubisoft and Gameloft, which specialises in smartphone games, to remain independent.
Ubisoft had a turnover of €1.4 billion in 2014. Aside from creating hit video games Assassin's Creed, Les Lapin Crétins and Rayman, the company has also expanded into feature film production, virtual reality experiences and is planning to open its first theme park in Malaysia in 2020.
Vivendi said its acquisition of Ubisoft shares was in keeping with a strategic vision revolving around media convergence that has already led the group to invest in Canal Plus and the video sharing platform Dailymotion.
It has also said it will ask for a seat on the board of directors when the time is right. After Canal Plus, Bolloré appears to be drawing battle-lines to take control of another major French media company.