Check out the trailers for films set to play at the 69th Cannes Film Festival.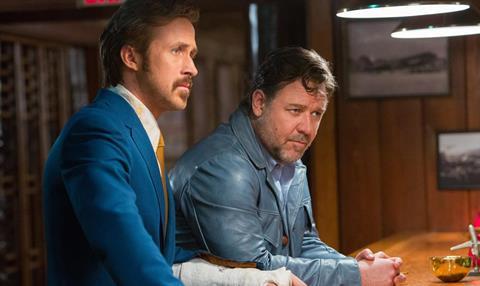 This page will be updated with further trailers are they are released…
Slack Bay (Ma Loute) - Bruno Dumont
Fabrice Luchini, Juliette Binoche and Valeria Bruni Tedeschi star in this quirky period comedy-drama about a series of mysterious tourist disappearances.
Julieta - Pedro Almodóvar
Emma Suárez and Adriana Ugarte both play the titular Julieta in this adaptation of three short stories by Pulitzer-winning Canadian author Alice Munro. [review]
The Neon Demon - Nicolas Winding Refn
Elle Fanning leads this twisted tale of a young model who moves to Los Angeles to forge her career.
The Handmaiden (Agassi) - Park Chan-Wook
(No English trailer available as of yet)
Based on Sarah Waters' novel Fingersmith, this Korean drama follows an heiress who falls in love with a petty thief.
Elle - Paul Verhoeven
Isabelle Huppert stars as the head of a video games company who, after being attacked by a home invader, sets about tracking down her assailant.
Bacalaureat - Cristian Mungiu
A drama revolving around a troubled family set in a small town in Romania.
The Unknown Girl - Jean-Pierre Dardenne, Luc Dardenne
A doctor attempts to uncover the identity of a patient who died after she refused her treatment.
Out Of Competition
Cafe Society - Woody Allen
Woody Allen returns to Cannes with this story set in the Hollywood film industry of the 1930s.
The BFG - Steven Spielberg
Spielberg reunites with Oscar-winner Mark Rylance for this adaptation of Roald Dahl's classic.
Money Monster - Jodie Foster
George Clooney stars as the host of a financial TV show who is kidnapped by disgruntled investor Jack O'Connell. Julia Roberts plays the show's producer.
The Nice Guys - Shane Black
Russell Crowe and Ryan Gosling are private eyes in this 1970s-set crime caper.
The Wailing - Na Hong-jin
After a stranger arrives in a small village, a mysterious sickness spreads. A policeman is forced to confront the mystery to save his daugher.
Un Certain Regard
Apprentice - Boo Junfeng
The film centres on a young correctional officer who strikes up an unlikely friendship with the long-serving chief executioner of the prison in which they work.
Captain Fantastic - Matt Ross
Viggo Mortensen stars as a father who raises six children in the forests of the Pacific Northwest.
The Red Turtle - Michael Dudok de Wit
Dialogue-less film follows a castaway living on a deserted tropical island populated by turtles, crabs and birds.
The Student - Kirill Serebrennikov
A shy Russian teenager undergoes a spiritual and religious crises when he embraces orthodox religion.