Take a closer look at the films from the 70th Cannes Film Festival.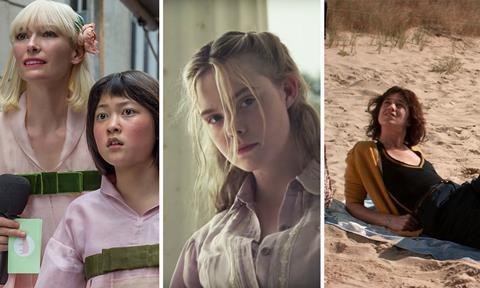 This page will be updated with trailers are they are released…
Competition
Le Redoutable, Michel Hazanavicius
The Artist director tackles Jean-Luc Godard in this new film, following the French New Wave director as he falls in love with 17-year-old actress Anne Wiazemsky.
The Day After, Hong Sangsoo
This film, which is one of two director Hong Sangsoo is premiering at Cannes, follows a woman who is mistaken for her boss' lover as she begins a new job at a publishing company.
Radiance, Naomi Kawase
A writer of film voiceovers for the visually impaired meets a photographer who is losing his eyesight at a film screening, and together they learn to see the radiant world that was previously invisible to them.
L'Amant Double, François Ozon
A fragile woman falls in love and moves in with her psychoanalyst, though soon discovers that he is hiding part of his identity.
Okja, Bong Joon-Ho
The latest from Bong Joon-Ho follows Mija, a young girl who risks all to stop a powerful company from kidnapping her best friend – a giant animal named Okja.
The Beguiled, Sofia Coppola
This drama starring Colin Farrell, Nicole Kidman and Kirsten Dunst is set during the American Civil War as a Union soldier is taken in by a sheltered school of young women, though tension and rivalries arise.
Rodin, Jacques Doillon
Film following the romance between French sculptor Auguste Rodin and Camille Claudel.
Out of Competition
Blade of the Immortal, Takashi Miike
Based on the manga series of the same name, Takashi Miike's latest movie follows a skilled samurai who is cursed with immortality after a legendary battle.
Ismael's Ghosts, Arnaud Desplechin (opening film)
A filmmaker's life is turned upside down after a former lover returns just before he is about to shoot a new film.
Un Certain Regard
Before We Vanish, Kiyoshi Kurosawa
Three aliens take possession of human bodies in preparation for a mass invasion of Earth.
April's Daughter, Michel Franco
A mother returns to Mexico to reconnect with her youngest daughter, whom she learns is pregnant. However, this opens-up a flood of emotions.
Lucky, Sergio Castellitto
This Italian film follows a young mother who fights for her dream to open her own hair salon following a failed marriage.