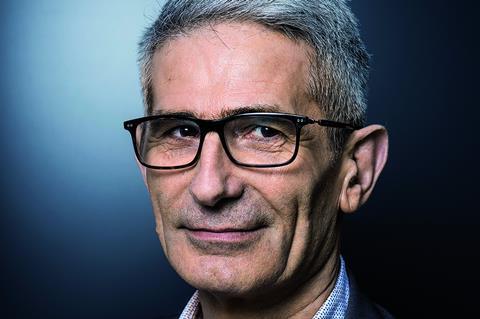 The upcoming edition of Cannes Critics' Week (July 7-15) will be a momentous one for its artistic director Charles Tesson on a number of levels.
As well as being the first physical edition since 2019, after last year's hiatus due to the Covid-19 pandemic, and the parallel section's 60th edition, it will also be respected film critic and academic Tesson's tenth edition at the helm. Screen talked to Tesson about the line-up, which was unveiled on Monday, and plans for the 60th edition.
According to the press release, you and your committee screened 1,000 films. How does that compare with previous years?
That's the number of titles submitted this year, which is a bit less than normal, but additionally, there were a number of films that we saw in 2020 and remained in the running.
Did many of the 2020 films make it into selection? Clara Roquet's Libertad, for example, was thought to be ready for a physical edition last year.
Yes, that is one of the films we expressed an interest in last year and it waited to try its chance again this year. Then you have the Egyptian film Feathers, which has been in development and production for some time but was submitted relatively recently.
Last year, you feted five features and 10 shorts with a 2020 label in the absence of a physical edition. Will you invite the directors of these films to this year's physical edition?
We're thinking about it for the five features. Aleem Khan's After Love has just come out in the UK. We'd like him and the other French directors to join us so they can have the Cannes experience.
How do you feel now that it seems this year's edition will happen?
Joy rather than relief. Even though it will be under particular circumstances, being able to show films on the big screen and meet people and exchange in person after months of video conferences will do us all good.
The competition selection is very international. Do you think the Middle Eastern and Latin American filmmakers will be able to make it to Cannes given the Covid-19 travel restrictions still in place?
The director of Feathers is currently in Paris for the post-production. For those who aren't already in Europe, we'll do all we can with the CNC (National Cinema Centre) to get the teams to Cannes if conditions permit.
Are you going to invite past guests of Cannes Critics' Week to celebrate the 60th edition?
No. We did that for the 50th edition. Rather than look back, we're going into the 60th edition with a different state of mind. We want to celebrate the present and look to the future rather than commemorate the past.
That's why, rather than show a restored film from 1962, we've decided to mark our 60th edition with the first feature Anaïs In Love by a young French director, Charline Bougeois-Tacquet. We showed her short film Pauline Asservie and accompanied the creation of this first feature.
Constance Meyer's comedy drama Robust, starring Gérard Depardieu and Deborah Lukumuena, is the opening film. Depardieu currently faces charges of rape and sexual abuse of a young actress, which he has denied. Did you think twice about inviting the film because of this?
We know about it and are aware of this reality. It's a very beautiful film that derives much of its force from his character and performance. It's the first time since 2004 that we've shown a film by a female French director as the opening film. Constance Meyer previously attended as the producer of an early short by Jonas Carpignano. She has known Depardieu for a long, long time. She was his prompter in the theatre and there is strong friendship and trust between them that comes through in the film.
Will Depardieu come?
He is supposed to but we'll see.

Were there any common themes or trends in the films you screened this year or in the selection?
There are lots of personal intimate stories that shed light on a larger reality, or bigger world, rather than the other way around. Leyla Bouzid's film [A Tale Of Love And Desire] is a good example of that as are Sandrine Kiberlain's film [A Radiant Girl], about a young Jewish girl who wants to be an actress in the difficult context of Paris in 1942, and Libertad, which explores issues of class through its two young protagonists.
As you just mentioned, actress Kiberlain's A Radiant Girl will debut as a special screening. Kiberlain is a household name in France with some 70 acting credits to her name. How does her film fit into Critics' Week?
We showed Sandrine's first short Smile (Bonne Figure) in 2016 as part of a closing-night event also featuring shorts by actresses Laetitia Casta and Chloe Sevigny. The youthful spirit and protagonist of the film is very much in keeping with the DNA of Critics' Week. We also have a history of showing the directorial debuts of confirmed acting talents, such as Sandrine Bonnaire [with Maddened By His Absence in 2012] and Alex Lutz [who screened his second film Guy in the selection in 2018].
During the Official Selection announcement on June 3, Cannes delegate general Thierry Fremaux mentioned he had worked closely with you and Directors' Fortnight artistic director Paolo Moretti this year to make sure films got looked after. Do you agree there was more complicity?
Absolutely. In such an anomalous year and given the number of films, it made sense. There's always some overlap in what we screen and we exchanged a lot about these films, openly expressing what we really liked and wanted to get behind. It was very constructive. It's important for each section to keep to its editorial line because that's what gives us our force but it was important to work together this year and be more than ever at the service of the films.
In terms of gender parity, 30% of the submissions were by women but more than 50% of the films are female-directed. Was this a deliberate move?
No. The films were simply all very good and there was a real diversity in terms of filmmaking and treatment of their subject matter. They take us in very different directions. When we make our selection we like to find films that take us into new cinema territories, to avoid repetition, and many of the films by women did this.
There is only one feature from Latin America and none from Asia in the selection this year. Why is this?
We got a lot fewer submissions from Latin America. We could feel the impact of the pandemic and other recent events. In terms of Asia and moreover, China, as you'll remember we closed the 2019 edition with Gu Xiaogang's Dwelling In The Fuchun Mountains, which was well-received critically and went on to enjoy box-office success. This year we received 52 works from China but decided we wanted to explore other territories such as those in The Gravedigger's Wife (Djibouti City) or Feathers.
The jury headed by Cristian Mungiu gathers an impressive group of cinema professionals but is not very diverse, why is that?
It's true the jury hails from France or Europe but this was mainly due to the difficulty of pinning people's presence down amid the ongoing uncertainties of being able to travel to Cannes. We looked at it a lot, but it was hard to get commitments, so we opted for this approach.