EXCLUSIVE: Punjab-set drama Fourth Direction to premiere in Un Certain Regard.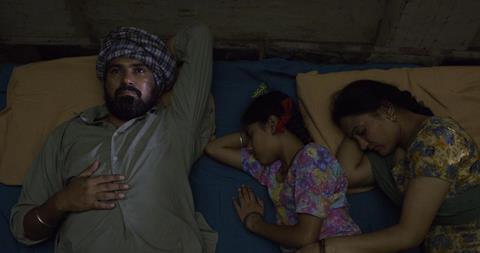 Elle Driver has picked up Indian director Gurvinder Singh's tense Punjab-set drama Fourth Direction (Chauthi Koot) ahead of its premiere in Cannes' Un Certain Regard.
Set in the Indian state of the Punjab at the height of the separatist Sikh uprising in the early 1980s, the film captures the atmosphere of fear and paranoia of the period and the impact of the violence on ordinary people.
Singh intertwines two loosely connect incidents, an attempt by two Hindu friends to get to the city of Amritsar, home to one of the holiest shrines in the Sikh religion, and a farmer who is told to put-down his barking dog.
It is a second feature for Singh after his debut picture Alms for a Blind Horse, which premiered in Venice in 2011.
Elle Driver has strong links with India's independent film scene, having previously sold Anurag Kashyap's Gangs of Wasseypur, Peddlers and Ugly.
Other festival titles on the company's slate include Cannes' opening film, Emmanuelle Bercot's Standing Tall, which has already generated a positive response from French critics who have screened the film ahead of its same-day release in France.
It is also handling sales on Palestinian Tarzan and Arab dark comedy Nasser's Dégradé which is due to premiere in Critics' Week.
Revolving around a group of women trapped in a Gaza Strip beauty salon by fighting between Hamas fighters and a local ruling clan over a stolen lion, it stars an ensemble cast led by Hiam Abbass.
New Téchiné, Puiu
Elle Driver will also unveil upcoming films from Romanian filmmaker Cristi Puiu and André Techiné.
Puiu's Sieranevada, which is currently shooting, revolves around a family commemoration for dead man that deteriorates into a full-scale row between all the attendees, who forget their reason being there.
Mimi Branescu who previously appeared in Child's Pose and The Death of Mr. Lazarescu stars.
It is a fifth feature for Puiu who was previously in Cannes with Aurora in 2010 and won Un Certain Regard with The Death of Mr. Lazarescu in 2005.
The company will also have the script for André Téchiné's next film Being Seventeen, co-written by the filmmaker and director Céline Sciamma, whose Girlhood came out in the UK over the weekend amid much buzz.
Starring upcoming actor Kacey Mottet Klein opposite Sandrine Kiberlain, it is a gritty coming-of-age tale about a pampered teenager – the son of a soldier on a military mission in Africa – who is temporarily forced to share his home with the adopted son of a neighbour.
A mutual sense of hatred exists between the two and tensions start to rise.
It is produced by Olivier Delbosc and Marc Missonnier of Fidélité Films.
First images
The company will also show first images of Mélanie Laurent and Cyril Dion's documentary Tomorrow, exploring the threat to the world's ecosystems. It has been produced to coincide with the Paris Climate Change conference this autumn.
It will also have a first promo reel for Audrey Estrougo's Jailbird starring Sophie Marceau as a woman who secretly swaps places with her lover in jail only to find herself trapped there. Also in the cast is long-time Xavier Dolan collaborator Suzanne Clément, who won best actress in Un Certain Regard for her performance in Laurence Anyways in 2013 and also racked up awards for her performance in his 2014 Mommy.