EXCLUSIVE: All-female production stars Canadian actress Natalie Krill and Swedish model Erika Linder.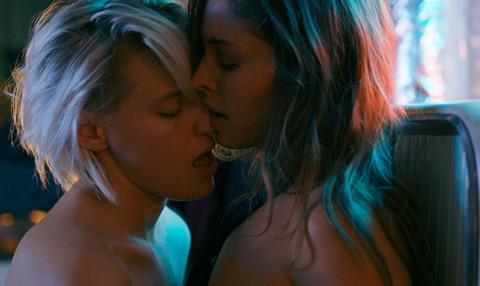 Elle Driver has acquired world sales to all-female production Below Her Mouth, about a passionate, unexpected fling between two women that changes their lives forever.
It is the latest production from Toronto-based Serendipity Point Films, which previously produced Atom Egoyan's Remember, Oscar-nominated Barney's Version and Being Julia, and is made in association with South African outfit Distant Horizon.
The film, which was shot with an all-female crew, stars Canadian actress Natalie Krill and Swedish model Erika Linder in her first acting role. Serendipity's Melissa Coghlan is lead producer.
Actress and director April Mullen directs from a screenplay by Stephanie Fabrizi.
Described by its producers as a "bold, uninhibited drama", the feature kicks off with a steamy, weekend affair between two women: Dallas, a roofer, and Jasmine, a fashion editor. But the powerful connection they ignite derails their lives.
Linder is known for her androgynous image, which has landed her a Tom Ford campaign and spreads in Vogue Italia with Steven Meisel and Michael Comte, Self Service Magazine with Mario Sorrenti, Elle Magazine and Marie Claire.
Krill began her career as a dancer, training with the Alberta Ballet and the Vancouver Goh Ballet Academy. She recently had roles in Atom Egoyan's Remember, Casino Jack, Hollywoodland and guest appearances on television series The Next Step, Orphan Black, The Listener and Rookie Blue.
"We are thrilled to be working with Elle Driver, they are a perfect fit for us," said Coghlan.
"Elle Driver has such passion for fresh creative content, they are innovative in their approach to represent films. We are looking forward to working alongside their team," said Mullen.
In a joint statement, Elle Driver's managing partners Eva Diederix and Adeline Fontan Tessaur said they were drawn to the film for the way in which it gives "a raw insight into how women connect from a female point of view in a unique way."
"We are proud to be representing this film to the public as a statement against stereotypes about women's sexuality we are used to seeing," they said.
Elle Driver will launch worldwide sales at Cannes, excluding North America. Cinetic Media will represent the film in the US and Elevation Pictures will distribute in Canada.
Key crew members include cinematographer Maya Bankovic, production designer Faye Mullen, wardrobe stylist Zeina Esmail and editor Michelle Szemberg.
Distant Horizon is a subsidiary of the South Africa-based independent production, distribution and financing company Videovision Entertainment. Its productions include Mandela: Long Walk To Freedom, Remember, The First Grader and Don't Look Up.
Paris-based independent films sales company Elle Driver, which will be also selling Christi Puiu's Palme d'Or contender Sieranevada at Cannes, has a long history of working with women film-makers including Emmanuelle Bercot, Claire Denis, Tanya Wexler, Leslie Headlands, Rebecca Zlotowski, Audrey Dana and Cherien Dabis.