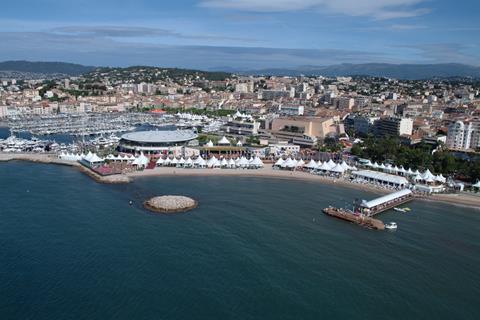 The Cannes Film Festival and its Marché du Film have both said they are pushing on with preparations for their 2020 editions, due to take place May 12-23, in response to growing speculation that they could be cancelled due to the coronavirus outbreak.
"We're working on the Official Selection. Films are arriving as normal," a festival spokesperson told Screen.
She added the annual press conference announcing the Official Selection was still scheduled to take place as normal on April 16 in central Paris.
Speculation that the Cannes Film Festival might not take place intensified on Wednesday (March 4) after the organisers of the MIPTV content market announced they were cancelling its 2020 edition, which had been due to take place March 30-April 2 in Cannes, due to coronavirus.
Earlier in the week, the MIPIM property fair which was due to take place in Cannes in mid-March was postponed to early June.
Media reports have suggested that Reed MIDEM, which organises both MIPTV and MIPIM, was forced to postpone or cancel the events due to a French government ban on gatherings of more than 5,000 people to stop the spread of coronavirus.
The festival spokesperson said that this rule did not apply to the festival and market because they never gather more than 5,000 people in one enclosed place at any one time. The Palais des Festival's largest auditorium seats 2,300 people.
"The directive does not apply to the festival because we have never more than 5,000 people at the same moment in a confined space," she said.
As of Thursday morning, there had been 285 confirmed cases of the illness in France and four deaths. A total of 13 of the cases had been in the Provence-Alpes-Côte d'Azur region where Cannes is situated.
The Cannes Film Festival spokesperson said the situation facing the festival was different from that facing MIPTV or MIPIM.
"We're not dealing with the same timeframe. Today, for both the festival and the market, it would be premature to talk about the cancellation of events that are due to take place in two-and-a-half months," said the spokesperson.
"Of course, we remain in contact with local and national authorities and we will follow their guidelines but right now there is nothing to indicate that the festival will not happen."
Marché du Film
Separately, Cannes Marché du Film chief Jérome Paillard told Screen that he was "very confident" that the market would take place as planned.
"Today, there are absolutely no plans to cancel the market," he said. "We're not like the other markets, we're in two months and we're very confident that the Cannes Film Festival will take place."
He also noted the Marché was in a different situation from MIPTV or the other trade shows taking place in Cannes throughout the year.
Firstly, he said, its parent the Cannes Film Festival is a non-profit event, which means it does not have to take business concerns into account when deciding to go ahead or not. Secondly, the market's participants are mainly independents rather than the staff of big corporate groups, which have imposed blanket bans on travel in response to coronavirus.
"Our clientele are mainly independent and made up of smaller companies of entrepreneurs. They have a very different mentality from the big corporate groups, which have to take more precautionary measures."
It remains to be seen who will attend the festival and market if they both go ahead as bigger companies and state-backed institutions cut back on travel due to coronavirus.
On Wednesday, Unifrance and the European Film Promotion (EFP) announced they would not be sending representatives to the Miami Film Market, even though they are co-organisers of the event. Unifrance's Rendez-Vous With French Cinema in New York (February 28 to March 10) has also been hit hard with talent and professionals cancelling their attendance at the eleventh hour.
In the other direction, many of the US agencies have been clamping down on staff travel and could well be reluctant to hit the French Riviera in May if the coronavirus is still rife. This could result in a dearth of big US packages hitting the Croisette this year.