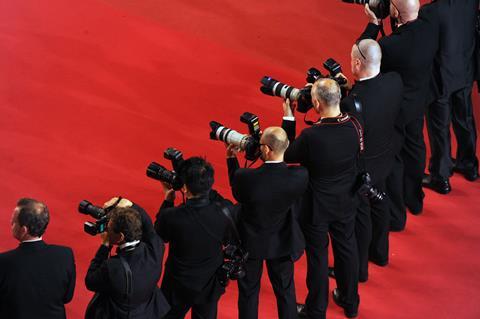 Cannes Film Festival general delegate Thierry Frémaux has given details on the composition and selection process for the special 2020 Official Selection, which is due to be unveiled in Paris tomorrow (June 3).
Frémaux said the festival would unveil 56 titles, against 59 in 2019 and the same as in 2018.
"The Selection is there, and it's wonderful. It shows that cinema, which disappeared from theatres for three months in 2020, for the first time since its creation by the Lumière brothers on December 28, 1895, is more alive than ever," he said.
Frémaux is due to make the announcement alongside festival president Pierre Lescure at the Normandie Cinema on the Champs-Elysées in central Paris at 6pm local time.
The announcement will come just under two weeks after the 2020 Cannes Film Festival was due to run, until it was forced to cancel its May 12-23 dates due to the Covid-19 pandemic, which also shut down sets and closed cinemas worldwide.
Normally the Normandie's vast theatre is packed out with local and international press for the event but the auditorium will be empty this year as French theatres remain closed to visitors until June 22, under lockdown measures put in place on March 14. The event will be livestreamed instead.
"Because there won't be any screenings on the Croisette as per the tradition of the festival, we have grouped the presented titles in one single list, without placing them in the usual categories of Competition, Un Certain Regard, Out of Competition, Midnight Screenings or Special Screenings," said Frémaux.
He said he would leave critics and public opinion to decide which categories the selections should have been in once the films had been screened elsewhere.
"In a list in which there will be lots of unknowns, it will be easy to create other categories, which are more sentimental, arbitrary, geographical or artistic, depending on what is found there: some leading lights, surprises, young directors, rare countries, documentaries, animated films and this year, a genre the absence of which is often deplored, comedies," he said.
Frémaux also revealed that 2,067 feature-length works had been submitted against 1,845 in 2019, 1,916 in 2018 and 1,885 in 2017, or going further back 1,665 in 2010.
"It's the first time the number of films submitted to Cannes has gone over 2,000 titles. The crisis and the slowing down of the post-production process did not stop films being sent," he said.
Frémaux added that the rise in films had been due in large part to an increase in debut features, which numbered 909 this year. Among these first films, 28.4% were directed by women.
He revealed that there would be 15 first films in this year's Official Selection, accounting for 26.7% of the line-up, against 10, or 17%, in 2019.
"Never have there been so many debutant filmmakers in a single Official Selection. It is proof of the creative vitality of cinema and also an engagement that festival is making for the future," said Frémaux.
Wider selection criteria
Setting the stage for Wednesday's announcement, Frémaux hinted that the 2020 Selection Official would be wider in its artistic reach than in previous years due to the challenges facing cinema as sets and cinemas attempt to reopen in the era of Covid-19.
"This selection has been built with the perspective of the Cannes Film Festival carrying out more than ever its main mission, namely to promote films, artists and professionals by showing their work and acting as a bridge between the theatres and the public," he said.
"The Selection has also been made with the filmmakers, producers and distributors who have decided to brave the incertainties of the time and release their films between now and the winter of 2021. This 2020 Selection reflects are desire to bring attention to films that are going to meet the public."
He said that the usual question of "Is this a film for Cannes?" had been joined this year by the second question, "Would this be a perfect film for the return to the cinemas?"
Looking at the geographical spread, he said the submitted films had hailed from 147 countries, against 138 in 2019. He noted, however, that there would be a strong French presence this year.
"This year we've gone up to 21 [titles], five more than 2017, 11 more than 2018 and eight more than 2019," he said. "It's not that French cinema was granted a privileged place. Rather that, aside from some established French cinema artists who are waiting for next year, the number and quality of the films screened resulted in a strong presence."
Other habitual territories such as the US, Korea, Japan and the UK would also have a presence, he said, while films from countries rarely represented in Cannes, including Bulgaria, Georgia and the Congo, had made the selection this year.
Strong female presence
Delving deeper into gender statistics, Frémaux said 532 female directors had submitted a film to the festival, accounting for 25.7% of the total. He noted this was down on 2019, when 575 female directors sent in works.
In spite of this, he revealed that 16 female directors had made it into Official Selection, against 14 in 2019, 12 in 2017, nine in 2016 and six on 2015. This means women will account for 28.5% of the directors in the 2020 selection, against 23.7% in 2019.
"This figure rises to 38% for the French films in the Official Selection," said Frémaux, adding: '"The presence of these female directors is the fruit of an evolution that has been observed and announced over the course of several years. It bears witness to the value of the artistic and human contribution of women in contemporary cinema, whether they are directors or technicians."
Where will the films be screened?
In the absence of the physical festival and its game-changing premieres at the Palais des Festivals, Frémaux said films in the selection would need to be defended in a different way this year.
"Numerous festivals across the world had stated their desire to welcome films from the Cannes selection. The festival will unveil the way it plans to continue its activities into the autumn in the near future," he said.
He noted that Official Selection films traditionally went on to screen at festivals that come after such as Locarno, Telluride, Toronto, Deauville, San Sebastian, Pusan, Angoulême, Morelia, New York, Lyon, Rome, Rome, Tokyo, Mumbai and Mar del Plata and even Sundance.
"They will be there again, with the active support of Cannes and its teams," he said.
Frémaux revealed Cannes had been planning a joint showcase with the parallel Cannes sections of Critics Week and ACID – which will also announce selections – at Locarno, until it too was forced to cancel its 2020 edition.
He noted, however, that Cannes had been shown solidarity by San Sebastian.
"We have agreed with San Sebastian director Jose-Luis Rebordinos that the films in the 2020 Official Selection can also play in its competition, something the rules normally prevent. An exceptional response to an exceptional situation," he said.