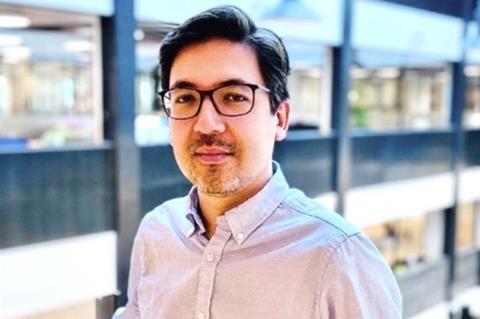 Cannes Marché du Film's co-executive director Guillaume Esmiol has been working closely with outgoing head Jérôme Paillard at its buzzy 2022 comeback edition, ahead of moving into the top job in 2023.
He spoke to Screen about his impressions as the market recovers from the Covid-19 pandemic with its biggest physical edition since 2019 and plans for the future.
How was the lead-up to the market?
There were a lot of questions. It was difficult to gauge the mood in the industry. Were they going to come? Would they be scared? Confirmations came very, very late. This didn't make things easy for us when it came to reserving space and building stands as it meant we were taking on the risk without having the visibility we'd like.
What's the final tally in terms of accreditations?
Anecdotally, at the beginning of the year, I had a wager with the accreditation team that we'd hit the 8,000 mark. In the end, we have more than 12,000, with our final figures coming in at 12,872, with the online participation counting for 7%. So we have 12,000 people in Cannes and another 900 online. In 2019, it was just over 12,500.
That's interesting given that Asian participation was down amid ongoing Covid restrictions, while many Russian professionals were barred because of the sanctions.
Asian professionals were not completely absent, but it's true there were far fewer than in 2019. China had the least presence as a result of the strict Covid restrictions currently in place there. In 2019, it was the fifth country in terms of representation, but China did have a pavilion and a stand and there were some Chinese on the ground, around 50 in total.
So who made up the shortfall?
We don't know exactly but we think it might be due to the fact that there are some professionals who come every two to three years, outside of pandemic times, and all came this year, having not made it since 2019.
Beyond attendance, do you think business has been done?
I've spoken to sales agents and they all seem happy. They've all had good meetings. I get the impression business is there. We have fewer exhibitors, 370, but it's still a good number. There were 110, 120 countries represented. It was a real market revival that was not guaranteed. People were happy to meet face-to-face again and we have the impression they do better business with a physical market.
While companies are still happy to be in Cannes, Screen reported that the trend for companies moving outside of the Palais seems to be accelerating.
The market is in different places. There's the Palais and the international village but there are also a number of big companies that take offices outside along the Croisette but these sales companies are still clients of the market, which is why we have the 'famous' Croisette Package [under which companies outside the main venues pay $2,500 (€2,400) for three badges and $5,100 (€4,900)] for six].
We think it's fair and not that expensive when you take into account what we provide for these sales companies, which are not among the most fragile. It allows them to be part of the Marché du Film, be announced as being part of the Marché du Film, be in our guides, use the market logo, and gain access for their staff for their screenings. Out of the 370 exhibitors this year, there were 120 outside the Palais who took this package.
Do you have any plans to draw professionals back into the Palais?
We have still got great companies in the Palais. Don't forget Films Boutique, Pyramide International or Latido Films, who came back to me with positive reports about the meetings they had in the Palais this year.
That said, we are reflecting on other ways to use the space. We want to create other types of activities, like creating more networking spaces, which is something we started doing this year, opening up a space on the Lerins, which was very successful. We want to create meeting events for the sales agents and buyers, as well as other types of cinema professional, such as the producers and festival programmers. The aim is to create a mixture of zones with stands and networking areas.
Another idea we have is to create a dedicated space for companies specialising in technology. We felt this year, there could be a number of technology companies that might be interested in having a presence in the Marché du Film.
Wasn't that already included in Cannes' Next programme?
That was more of a conference programme but we've never had a dedicated area for technology company exhibitors, apart from the virtual reality spaces, but that is something we could do a lot more on.
You're taking over from Jérôme Paillard at a challenging time for the physical film markets. What ideas do you have for developing the market and keeping it relevant for the future?
Of course we have to rethink how we do these events but I am not going to say the old model is no longer relevant. I see a lot of activity at the Palais and the International Village. People are happy. It's a mistake to think that this model is not the right one anymore. It is still very strong.
The first priority is to get the market back to what it was in 2019 in terms of hosting sales companies and country pavilions. The second is to explore new areas such as innovation and technology, as I mentioned before. I also believe in cross-cultural programmes. I think cinema has strong connections with music, with XR, VR and video games. There are a lot of other cultural industries that connect with cinema and this could be another source of business opportunities.
The third priority is to rethink how the physical market can co-exist with online tools. In the Covid years, it was a solution to organise a market anyway even though people couldn't travel. The online platform was an interesting solution but now this year we have only 7% of online participants and the value is really about being in Cannes.
The online services we need to create will be different, and perhaps all year long. Jérôme began this a long time ago with Cinando and it's a very good example of an online service we can develop that is not an attempt to recreate the physical market but rather a complementary tool.
So you might expand Cinando?
I would love to.
Will the Marché du Film continue to offer an online component at future editions?
We kept it running this year because there were territories that could not travel like China. But it was clear, the sales agents gave priority to screenings in Cannes. We had 1,300 screenings in Cannes, and 600 online.
So there won't be an online offering next year?
It's too early to say. I was talking about it with the EFM (European Film Market) and we're both asking the same question. It was important during Covid but now we're asking what we should do now. It's a lot of technical cost to be honest, so it's a question.
Talking of costs, will there be any price hikes due to inflationary pressures in the coming year?
Costs have shot up and since the Covid crisis, there are materials that are more difficult to get, even paper is more expensive. Sometimes it's not a question of price, there simply isn't the material.
Our clients want the price to go down but our costs are exploding, due to things like energy prices. We had a big hike in electricity prices this year and this will go up even more next year because of the war [in Ukraine].
People don't realise that but there are a lot of things that we provide that are not beneficial to us. We lose money on the screenings, for example, even though we ask sales agents to contribute to the costs. But to answer your question, we'll see. We'll try to find a balance between what our clients find acceptable to pay and our costs. The point is we don't want to raise the price for the sake of raising prices.
What are your next steps as you wind the 2022 edition?
I want to meet more people in the industry. Of course, I met a lot of people here this year but I plan to be at the AFM and then Berlin as well as other events. The three of us [Cannes, AFM and EFM] have a very good relationship and had lunch during Cannes. We're sharing our conclusions and data. We are complementary and it makes sense to work together.