Japanese filmmaker talks in Doha about the power of making the audience wait and her surprise over the popularity of her latest film An back home.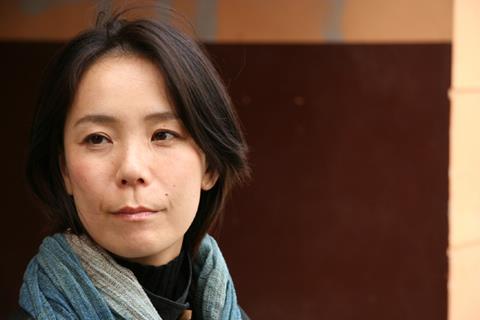 Director Naomi Kawase has revealed she was surprised by the success of her latest film An in her native Japan, after years of her work being largely ignored by local audiences, and the development could influence her future film-making.
"I've been wondering about this and I am still wondering about this as I try to identify the direction I'll take on my next movie. I want as many people as possible to watch my movies - that's a given," the director told a master-class at Doha Film Institute's Qumra event on Monday.
The tale of an elderly woman with a talent for making traditional red bean paste, An grossed just over $2m in Japan when it was released shortly after its premiere in competition at Cannes last year.
Kawase said that was nearly five times the performance of her previous film Still The Water, which also premiered in competition in Cannes.
More recently, An has drawn a personal record-breaking 300,000 spectators in France, where Kawase's films traditionally do best, in the face of suggestions by critics at Cannes that its more commercial edge and Japanese appeal would put off long-time international fans.
Speaking after the master-class, Kawase suggested An had proved more popular with cinema-goers because it approached her characteristic themes of life and death through the vehicle of traditional red-bean paste.
"If I'd simply made a film about someone who had leprosy or was sick, I don't think it would have appealed to people as much," said Kawase. "The topic is an important one but people don't necessarily want to go to the cinema see a film about sickness whereas a film revolving around red bean paste is easier — even though they will still get touched by the story — it's a new approach for me."
She revealed she had just finished writing the script for her next film but would not reveal further details.
Film-making origins
At Monday's master-class, Kawase explained the circumstances surrounding her birth and how her abandonment by her parents, who divorced before she was born, had been one of the driving factors behind her embrace of the cinema.
"The fact I was born into this world was a miracle in itself. When my mother was pregnant with me, my parents split-up. My mother could have had an abortion," she said.
This made her determined to leave a trace, she explained: "I thought about how I could do this - whether it should be through painting, music, photography or novels but then I chose films."
Her early filmmaking, she said, had been driven by a desire to understand herself and the world around her than the influence of other cineastes.
"My hometown of Nara is in a rural area and doesn't have a cinema," she explained. "I wasn't brought up with lots of cinema. The camera and film came to me. The God of filming came down to me."
Early filmography
The master-class touched on early works such as Katatsumori, an homage to her beloved aunt and guardian as she approached death; her third documentary-style fiction feature Shara, as well as later titles The Mourning Forest and Still the Water.
It revealed the deep connection between Kawase's rural hometown of Nara, love of nature and personal spirituality and her filmmaking.
Talking about a characteristically long dance scene in Shara, she said: "Taking time to film is a characteristic of my films. Today, you can perhaps control it with the latest technologies. But to me, waiting is important. It's great to get something immediately but things that you can't get straight away are also important,"
"I think this is linked to my Japanese roots and the fact I grew up in a place rich in nature. If you want to watch cherry blossom you have to wait until spring. If you want persimmon, you have to wait until autumn. Waiting is important."
Nara International Film Festival
Aside from her filmmaking, Kawase also talked about the Nara International Film Festival which she spearheaded the launch of in 2010.
The festival had been created, she said, to encourage film-going and contemporary culture in the ancient city with roots going back 1,300 years.
"Nara is a town with a long history and sense of culture but young people feel trapped in this bubble and don't stick around. They head instead for Tokyo or overseas. Nara doesn't offer any attraction to them. The festival was attempt to show them you can find culture and opportunity at home."
A unique aspect of the biannual festival, she said, is its NARAtive initiative through which the winner is invited back to Nara to shoot a film, involving locals – young and old – produced by Kawase.
To date, the festival has yielded Korean Jang Kun-jae's A Midsummer's Fantasia and Mexican Pedro Gonzalez-Rubio's documentary Inori, about the aging inhabitants of a dying mountain village.
It is currently working with Cuban director Carlos M. Quintela, whose The Project Of The Century won the Rotterdam International Film Festival's top Tiger award in 2015.
Kawase is one of five masters at DFI's talent nurturing Qumra event — running March 4-9 in Doha – alongside screenwriter, director and producer James Schamus, Russian director Aleksandr Sokurov, Turkish director Nuri Bilge Ceylan and US documentarian Joshua Oppenheimer.
Also from Qumra:
Palme d'Or winner Nuri Bilge Ceylan: "Making mistakes is the best teacher"