MAY 2 UPDATE: Disney dominates as The Jungle Book nears $700m worldwide and Zootopia becomes the biggest film of 2016 with $931.4m.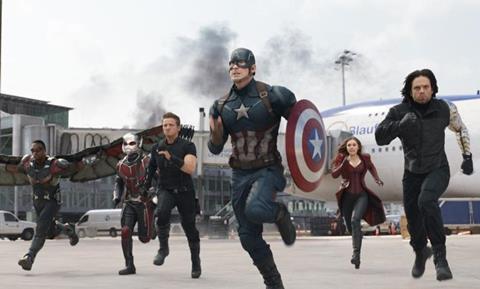 WALT DISNEY STUDIOS MOTION PICTURES INTERNATIONAL
UPDATE: Captain America: Civil War launched with a huge $200.4m on its international bow in 37 territories, narrowly behind Avengers: Age Of Ultron.
South Korea led the charge with the third highest industry opening of all time with a mighty $28.7m, while it posted the biggest industry debut of all time in Mexico at $20.4m.
Other highlights included a $21.1m three-day bow in the UK, the biggest industry debut of all time in Brazil with $12.9m, the third-biggest Disney debut in Australia at $10.6m and the biggest opening of 2016 in France with $9.9m.
Civil War opened top in all of its European markets and took $9.6m at IMAX screens around the world.
Along with its North American release, Marvel's latest opens in all remaining international markets next weekend, including Italy, Russia, Argentina and China.
And the Disney domination continued as The Jungle Book swung to almost $100m worldwide this weekend as it fast approaches the $700m mark.
Internationally, it took $57.1m from its 53 territories for $432.7m overseas. In Europe, it was down only 39% with the UK leading the way with $42.5m after three weeks in play.
The leading overseas market by far remains China which stands at a muscular $129.8m after a $20m third weekend. It is now Disney's second biggest live action release in the market.
Not to be outdone, Zootopia is now the biggest film of 2016 to date with a global haul of $931.4m.
Overseas, the animation stands at $607.9m following an $8.3m weekend in its 40 territories. In Germany, Zootopia has become the biggest film of 2016 with $31.8m, while it boosted 9% in Japan for $12.8m so far.
EDKO FILMS
Romantic comedy sequel Finding Mr Right: Book Of Love enjoyed an estimated $51m debut from its four territories, according to ComScore.
FU JIAN HENGYE PICTURES CO
Chang Tae-you's MBA Partners posted an estimated $7.5m bow in China to chart third behind Finding Mr Right: Book Of Love and The Jungle Book.
UNIVERSAL PICTURES INTERNATIONAL
UPDATE: The Huntsman: Winter's War battled to an extra estimated $8.1m from its 63 territories for $97.8m to date.
China remains its top overseas territory with $15.6m, followed by the UK and Mexico on $7.3m and $7.2m, respectively. The fantasy sequel opens in Panama next weekend and Japan on May 27.
Led by a $426k holdover in Australia for $4.4m, The Boss grossed $1.4m from its 20 territories for $10.8m internationally, ahead of its release in Spain on May 20 and the UK on June 10.
Hail, Caesar! and My Big Fat Greek Wedding 2 stand at $32.7m and $28.5m, respectively.
DISTRIBUTION WORKSHOP
Yip Wai Man's thriller Phantom Of The Theatre scared up an estimated $7m on its Chinese bow as local titles dominated the box office around the May Day holidays.
FOX INTERNATIONAL
UPDATE: With no new openings, Kung Fu Panda 3 chopped its way to a further $2.9m from its 42 markets for $367.9m to date.
France added $1.04m in its fifth weekend for $16m, while Holland took $487k and $2.1m so far.
Eddie The Eagle continued strongly in Australia with $977k for $4.23m after two weeks in play. The biopic posted an overall $1.5m weekend in its 24 markets for $14.7m from its Fox markets.
In its second weekend, The Revenant hunted down $1.01m in Japan for a local tally of $5.2m and an international haul of $342.95m.
WARNER BROS PICTURES INTERNATIONAL
UPDATE: Batman v Superman: Dawn Of Justice pulled in $2.6m from its 59 markets for $537.7m internationally and a global haul of $863m.
DIAMOND PICTURES
Launching in 20 overseas territories day-and-date with its North American bow, Mother's Day grossed an estimated $2.1m.
LIONSGATE INTERNATIONAL
The Divergent Series: Allegiant stands at $93m following a $945k weekend in its 42 markets.
STUDIOCANAL UK
In its second weekend, Bastille Day shot to an estimated $435k for $2.2m after ten days in play in the UK.