The Falling director spoke at This Way Up conference in Manchester.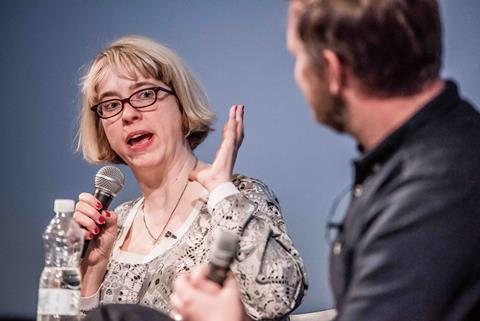 Film-maker Carol Morley (The Falling, Dreams Of A Life) slammed the "disgraceful" state of gender imbalance in the film industry during an in conversation event at the This Way Up cinema conference in Manchester today (Dec 3).
When quizzed by BFI Film Fund director Ben Roberts about whether the narrative around women film-makers helped or hindered Morley with the release of The Falling, she responded: "To be perfectly honest, it's just an absolute irritant.
"It's very lazy, disgraceful, it's like 'Oh my god, we're in the 21st century'. It's really baffling to me."
The director highlighted that she is always quizzed about the lack of women in film but - as a working director - was the wrong person to ask:
"I am a feminist, I'm going to talk about that, but why are we always questioning women about women film-makers?"
Instead, she suggested marketing teams, financiers, sales agents and distributors should be answering questions about the lack of women on screen and behind the camera.
"There's still an idea of a niche [about women film-makers]," she added, questioning why this was the case when women made up more than 50% of the British population.
Morley also expressed her concern about the attendance of young people at British cinemas, particularly for arthouse films: "I think young people are disenfranchised from cinema."
"It's about whether young people have the opportunity to see it," she added, claiming cinema is too expensive for many young people and, for those not in metropolitan areas, it can also cost too much to travel to the venues.
The director also said that while VOD was important for finding new audiences, she was committed to getting her films released theatrically: "Exhibition is absolutely crucial, we do not want to go straight-to-DVD."
Last week, Morley was awarded the Wellcome Trust's Screenwriting Fellowship, which comes with an award of £30,000 ($45,000) and access to the Trust's scientists, labs and research.