EXCLUSIVE: BFI, BBC Films, Independent, Luc Roeg also on board.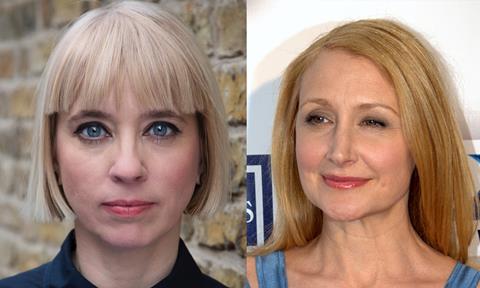 Dreams Of A Life and The Falling director Carol Morley will begin production on her next film in Atlanta, Georgia, in autumn 2017.
Out Of Blue, based on Martin Amis's neo-noir detective novel Night Train, will star Shutter Island star Patricia Clarkson in the lead role as homicide detective Mike Hoolihan, with Toby Jones (Berberian Sound Studio), Mamie Gummer (The End of the Tour) and Teyonah Parris (Chi-Raq) also attached.
Further cast announcements are expected soon.
Developed with the support of the BFI, with National Lottery funding, and BBC Films, the film will be produced by Luc Roeg (We Need To Talk About Kevin) and Cairo Cannon (Dreams Of A Life) and will be sold by Independent in Cannes.
In Out Of Blue, when Hoolihan is called to investigate the shooting of leading astrophysicist and black hole expert, Jennifer Rockwell, she is affected in ways she struggles to comprehend.
Revolving around contemporary Atlanta, the detective's quest for the truth destabilizes her view of the world, and herself.
Amis' novel also explores questions around gender and trauma.
Cannon and Morley Productions (CAMP) is run by writer-director Morley and producer Cannon.
Roeg and Cannon said: "The Falling established Carol Morley as an exciting and unique voice in British Cinema and it's a privilege to be producing her new film Out Of Blue. Carol has written such an original and distinctive screenplay that Out Of Blue will be sure to consolidate her reputation as one of the UK's most dynamic directorial talents. Patricia Clarkson is an actor we have always admired and we know her Mike will be an iconic character, a complex woman on screen to watch again and again."
Andrew Orr of Independent Film Sales said of the project, "Carol's a distinctive and compelling voice in contemporary cinema: from Dreams Of A Life to The Falling, her storytelling draws you in beyond the plot, to levels of meaning and universal questions about our lives and selves, which lie just below the surface of our everyday existence. Even on the page, Out Of Blue, is a truly cinematic story - a distinct and original vision which belongs on the big screen."
Patricia Clarkson is represented by CAA and Anonymous Content. Carol Morley is represented by Matthew Bates at Sayle Screen. Teyonah Parris is represented by APA and Vanguard Management.