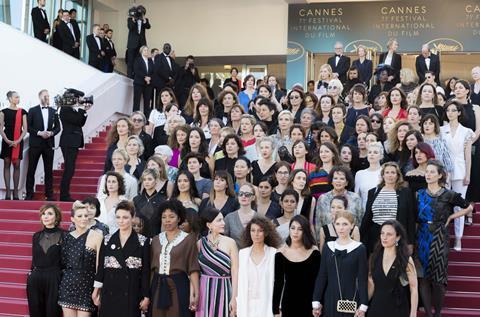 Cate Blanchett and Agnes Varda led 82 female industry figures in a silent ascent of the red carpet at the Cannes Film Festival on Saturday protesting the lack of female representation at the event over its 71 editions.
Other stars joining the protest – taking place on Cannes iconic red steps ahead of the premiere of Eva Husson's Girls of the Sun in Competition – included Kristen Stewart, Marion Cotillard, Ava DuVernay and Lea Seydoux.
Dressed mainly in black the women ascended the steps in silence and then stood while this year's jury president Cate Blanchett and Cannes veteran Agnes Varda read the same statement in English and French.
"We all face unique challenges but we stand on the steps today as a symbol of our determination and commitment to progress. We are writers, we are producers, we are directors, actresses, cinematographers, talent agents, editors, distributors and all of us are involved in the cinematic arts," said Blanchett. "We stand here today in solidarity with women of all industries."
"82 women, representing the number of female directors who have climbed these stairs since the first edition of the Cannes Film Festival since 1946," read Blanchett
"In the same period, 1,688 male directors have climbed these very stairs. In the 71 years of this world-renowned festival, there have been only 12 female heads of its juries. The prestigious Palme d'Or has been bestowed upon 71 male directors, but only two female directors, Jane Campion, who is here in spirit, and the wonderful Agnes Varda who is here today. These facts are stark and undeniable."
French cinema gender equality movement 5050x2020, which spearheaded the initiative, pre-released a list of the women taking part in the show of solidarity.
Agathe Valentin International sales agent
Agnès Varda director
Agniezka Smoczynska director
Alba Rohrwacher director
Alexandra Henochsberg distributor, producer
Alice Rohrwacher director
Andréa Bescond director
Anja Kofmel director
Anna Mouglalis actress
Anna Ciennik production manager
Anne Lai producer
Anne Berest screentwriter
Annemarie Jacir director
Ariane Ascaride actress
Ava DuVernay director
Beatriz Seigner director
Bénédicte Couvreur producer
Bérénice Vincent international sales agent
Carole Scotta producer, distributor
Caroline Benjo producer, distributor
Caroline Bonmarchand producer
Cécile Cassel actress
Cécile Aubert production assistant
Céline Salette actress
Céline Sciamma director, screenwriter
Claudia Cardinale actress
Clémence Poésy actress
Clotilde Courau actress
Cristina Gallego director
Daniela Elstner international sales agent
Delphyne Besse international sales agent
Diana Elbaum producer
Dina Emam producer
Elisabeth Tanner talent agent
Elisabeth Perez producer
Eva Sangiorgi programmer
Géraldine Pailhas actress
Ginevra Elkann producer
Haifaa Al Mansour director
Houda Benyamina director
Hylda Queally talent agent
Iris Brey journalist
Isabel Mercier producer
Jane Fonda actress
Jasmine Trinca actress
Jeanne Lapoirie director of photography
Judith Nora producer
Julie Huntsinger producer
Julie Gayet producer, actress
Julie Billy producer
Julie Bertucelli director
Keleigh Thomas Morgan talent agent
Khadja Nin musician, singer
Kim Longinotto director
Kiska Higgs producer
Kirsten Stewart actress
Laure Parleani international sales agent
Laurence Lascary producer
Léa Seydoux actress
Leïla Bekhti actress
Lisa Azuelos director, producer
Lolita Chammah actress
Maha Dakhil talent agent
Mariana Ximenes actress
Marianne Slot producer
Marie Masmonteil producer
Marie Monge director
Marie Amachoukeli director, screenwriter
Marie-Ange Luciani producer
Marie-Pierre Macia producer
Marion Cotillard actress
Marion Tharaud distributor
Marleyda Soto actress
Melissa Silverstein journalist
Mélita Toscan du Plantier producer
Meryem Benm'Barek director
Michèle Halberstadt producer, distributor
Nandita Das director
Naomi Denamur acquisitions executive
Patty Jenkins director
Pauline Gygax producer
Priscilla Bertin producer
Rasika Dugal actress
Rebecca Zlotowski director, screenwriter
Rohena Gera director
Rosalie Varda costume designer, producer
Salma Hayek actress, producer
Sandrine Brauer producer
Sofia Boutella actress
Sophie Reine film editor
Sophie Mas producer
Stacey Martin actress
Tonie Marshall director
Ursula Meier director
Valentina Novati producer, distributor
Valérie Donzelli director, producer, actress
Vanessa Filho director
Virginie Ledoyen actress
Wanuri Kahiu director
Zabou Breitman director, actress