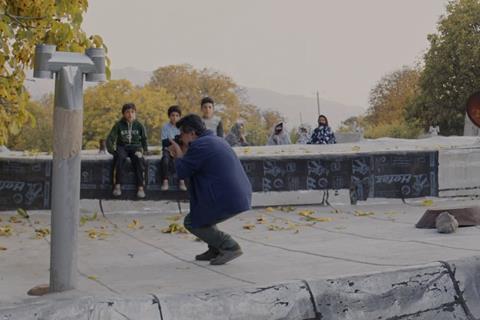 Paris-based Celluloid Dreams will kick off sales on Iranian director Jafar Panahi's new feature No Bears at the upcoming edition of Cannes.
The drama follows two parallel love stories in which the partners are thwarted by hidden, inevitable obstacles, the force of superstition, and the mechanics of power.
It Is currently in post-production and will be ready for a launch at a festival this year.
It marks Panahi's first fiction film since the road movie 3 Faces, which won the best screenplay in Competition at Cannes in 2018, although he has directed the short film Hidden and participated in the portmanteau pandemic life documentary The Year Of The Everlasting Storm.
Panahi directs and produces the film with cast members including Iranian actors Naser Hashemi, Vahid Mobasseri, Bakhtiyar Panjeei and Mina Kavani.
Celluloid Dreams founding president Hengameh Panahi began working with Panahi (no relation) with his breakout debut The White Balloon, which won the Caméra d'Or in 1995 after premiering in Cannes Directors' Fortnight.
She has handled sales on all of his films including 1997 Locarno Golden Leopard winner The Mirror, 2000 Golden Lion winner The Circle and 2015 Berlinale Golden Bear winner Taxi Tehran.
Celluloid also looked after Hit The Road, the first feature of Panahi's son Panah Panahi, which also debuted in Directors' Fortnight last July.
Cannes titles
Celluloid Dreams' Panahi and vice-president Charlotte Mickie will both in be Cannes this year. Their slate also features emerging Iranian filmmaker Ali Behrad's debut film Imagine, which premieres in Critics' Week. It is the first film hailing from Iran to play in the parallel section in nearly 20 years.
Mehrdad Sedighian plays a Tehran taxi driver who falls for a woman who is unavailable to him, played by Leila Hatami, leading to a series of encounters filled with mystery and fantasy.
It is produced by Javad Noruzbegi who is also the producer of Iranian director Saeed Roustayi's 2022 Palme d'Or contender Leila's Brothers.
Further upcoming films
Other upcoming films on Celluloid's Cannes 2022 slate include Canadian director Graham Foy's teen movie The Maiden. The suburbia-set drama revolves around a high-school student whose discovery of a classmate's diary opens the door to a mirror world.
The feature, which is currently in post-production, participated in the Next Step initiative of Critics' Week helping filmmakers make the jump from short to feature-length films. The film is in post-production and is expected to make a festival debut later this year.
Foy's last short film August 22, This Year was feted with Critics' Week's special 2020 label, created after the edition was cancelled due to the Covid-19 pandemic
The company is also selling Moroccan filmmaker Leila Kilani's Tangier-set drama Birdland about a family divided over whether to sell its country estate to a developer or donate the land to create a bird sanctuary.
Kilani is best known for her 2011 feature On The Edge, which debuted in Directors' Fortnight and played at more than 80 festivals.
Celluloid Dreams has also recently acquired world sales rights to Ukrainian director Antonio Lukich's family drama From Ukraine To Luxembourg.
It follows twin brothers, played by Ramil and Amil Nasirov, who head to Luxembourg in search of their estranged, once "bad-ass" father.
It is Lukich's second feature after My Thoughts Are Silent which won the East Of The West prize in Karlovy Vary International Film Festival in 2019 and went on to play at another 20 festivals.