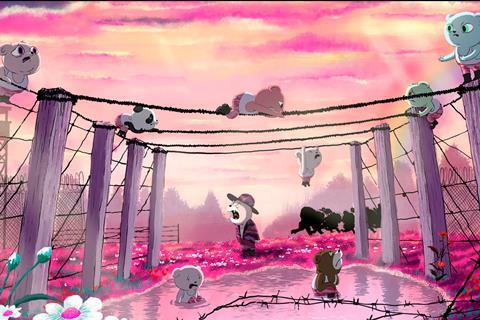 Charades has boarded sales on Laurent Tirard's new comedy Oh My Goodness! and plans to launch pre-sales at the upcoming online Cannes Pre-screenings in June and physical Marché du Film in July.
It revolves around five nuns who set their sights on winning the cash prize in a major cycling race to raise money to renovate a dilapidated hospice. The only hitch is that none of them can ride a bicycle but they are counting instead on God working in mysterious ways.
The ensemble cast features Valérie Bonneton (Little White Lies), Claire Nadeau, Guilaine Londez, Sidse Babett Knudsen, François Morel and Louise Malek.
It is lead produced by Les Films sur Mesure, Tirard's joint production company with producer Olivia Lagache. It marks a second collaboration with Tirard for Charades which also handled international sales on his most recent film The Speech. The comedy-drama was feted with Cannes 2020 label selection and is finally being released by Le Pacte in France on Wednesday (June 9).
Charades will also launch sales on Sébastien Marnier's upcoming thriller The Origin Of Evil which shot earlier this year.
Rising French actress Laure Calamy stars as a woman with a job in a food processing plant who discovers the father she never knew is a wealthy businessman. Calamy, who won the César for best actress this year for her role in My Lover, My Donkey And, is best known internationally for her role in global hit comedy Call My Agent!.
It is Marnier's third film after the thriller School's Out which world premiered in 2018 in Venice's Sconfini section, which has since been replaced by Horizons.
Charades previously collaborated with the film's producer Caroline Bonmarchand at Avenue B Productions, handling the sale on Margaux Bonhomme's 2018 drama Head Above Water. The Jokers Films has taken French rights to the upcoming thriller.
The company will also officially kick off sales on Spanish comic book artist and animator Alberto Vázquez's animated film Unicorn Wars. Prior to the markets, the film is due to be presented in the Work In Progress event of the Annecy International Animation Film Festival.
Set against the backdrop of a brutal war between teddy bears and unicorns, it revolves around two sibling teddy bears who attend a special military camp and are then sent on a special mission that spins out of control
It is Vázquez's second animated feature after Birdboy which won the Spanish Goya for best-animated film in 2016 and was acquired by Gkids for the US. It is produced by Spain's Abano Producións and Uniko Estudio Creativo as well as France's Autour de Minuit and Schmuby Productions.