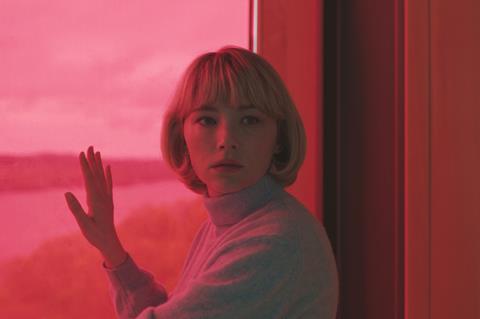 Paris-based sales company Charades has sealed a trio of key deals on Carlo Mirabella-Davis's drama Swallow to mk2 Mile End (Canada), La Aventura Audiovisual (Spain) and Koch Films (Germany).
Swallow premiered a year ago at the 2019 Tribeca Film Festival.
Further older unannounced sales include to Cineart (Benelux), Volga (Russia), Velvet Spoon (Poland), ADS (Hungary), Fabula (Turkey), Empire (Middle East), Klockworx (Japan), Watcha (Korea), Benchmark (Taiwan), Machete (Mexico), Tiller and Tide (New Zealand).
"They're all the distributors of Parasite in their respective territories," said Charades co-chief Yohann Comte on the trio of recent buyers, referring to Korean director Bong Joon Ho's Cannes Palme d'Or and Oscar-winning international box office hit.
Mirabella-Davis's debut feature stars Haley Bennett as a beautiful, wealthy housewife living in a gilded cage, who retains a sense of self by swallowing dangerous objects.
The feature was released on VoD in the US after the theatrical component of its day and date release by IFC Films on March 6 had to be abandoned due to cinema closures and the Covid-19 pandemic lockdown.
In the UK it also went straight to VoD on March 16 via Blue Finch Film Releasing.
In France, UFO Distribution has maintained its four-month VoD window after a successful theatrical release in France in January, which grossed $378,000.
"It's ended up on several 'films to watch' lists and the VoD numbers are super high," commented Comte.
Its US producers Mynette Louie and Mollye Asher told Screen they believed the film had "actually benefitted from the pandemic" in terms of exposure in the US even if the theatrical box office had been sacrificed.
"IFC Films has been very nimble. It released the film on March 6, which was the last normal weekend, with a day and date campaign so it was already on VoD platforms," said Louie. "We've basically sacrificed theatrical. It came out on three screens and was due to expand into 38 locations but that never happened."
Louie says the fact Swallow was already out on VoD while studios with "purely theatrical movies" took their time to figure out their next move helped boost the film's online performance.
"There was also the captive audience and that fact that there simply aren't that many other new movies for media outlets to focus on or write about," she adds. "There's been a long tail of press for us, longer than normal with Carlo and the film's star Hayley Bennett still doing a ton of interviews."
Asher suggested the theme of isolation running the film also gave it extra resonance with audiences during the lockdown.
Unusual US chart-topper
In an unexpected twist, the film topped the US box office charts for the week beginning April 10 after it screened at the Ocala Drive-in cinema in Florida, selling some 500 tickets.
It was, however, the second-lowest grossing US chart-topper in recent history with a weekend gross of just $1,701. In total, Swallow has grossed around $31,600 in the US to date. The lowest-grossing chart-topper is another IFC Films title, Polish director Malgorzata Szumowska's English-language drama The Other Lamb, which was released April 3 in the US and then also played as a double bill with Swallow at the Ocala. It took $1,194 in its opening weekend.
"It's not known for being arthouse friendly," said Asher, referring to the Ocala Drive-in. "The fact that 500 people drove there to see the film shows that if you give people the opportunity to see these sorts of movies they do like them."
With cinemas now shut indefinitely around the world, Swallow is expected to go straight to VoD in most of the territories where it has sold.
"I think it makes sense because distributors can capitalise on all the momentum we're getting over here. All that coverage and enthusiasm may have died out by the time cinemas open again, and beyond that, it's not really clear when cinemas will open and audiences will feel comfortable about frequenting them again."
Neither fear that the current trend for straight-to-VOD releases will have a long-time impact on theatrical audiences for arthouse films in the US.
"The whole idea of day and date outside of the pandemic is that there are people who are theatre people and people who watch on VOD and one doesn't affect the other one," said Asher. "I think cinema people will also be cinema people and will eventually head back to theatres once it's safe to do so.