A Chinese Odyssey leads the pack, with S Storm and Cock And Bull in tow.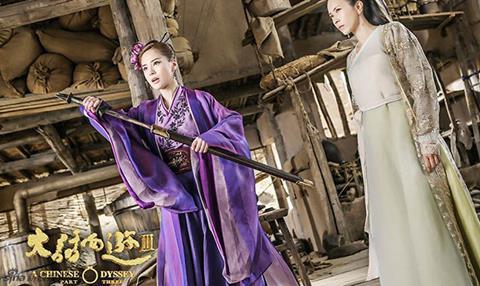 Buoyed by the mid-autumn festival holidays, Chinese films made a comeback to rule the box office in the week of Sep 12-18, resulting in six new Chinese releases in the top 10.
Leading the pack was A Chinese Odyssey: Part 3, which amassed $36.37m from its first five days, making it the highest grossing Jeff Lau-directed film.
The fantasy comedy features a largely mainland Chinese cast headed by Han Geng and Tiffany Tang, with Karen Mok as the only one from the original cast who reprises the same role. The previous two Hong Kong films were released in two parts in 1995, both starring Stephen Chow and directed by Lau, and have gathered a huge following in China.
In second place, S Storm opened with $17.42m from its first five days and surpassed the final gross of its 2014's predecessor Z Storm. Produced by Raymond Wong's Pegasus Motion Pictures, the new anti-corruption action thriller reunites Hong Kong director David Lam with popular actor Louis Koo (who recently appeared in Line Walker and Three). Julian Cheung and Vic Chou join the cast.
Opened on the same day as the top two films, Cock And Bull almost tied with Soulmate for the third and fourth positions. The former, a crime comedy from The Dead End director Cao Baoping and starring Liu Ye, grossed $11.48m, while the latter, a coming-of-age romance starring Zhou Dongyu and Ma Sichun, took $10.56m. It is produced by Hong Kong director Peter Chan as the solo directorial debut of Derek Tsang.
The English-language holdovers occupied the next few places, including Star Trek Beyond on $8.58m for $61.04m after 17 days, setting a new record for the franchise; Nine Lives on $5.81m for $13.84m after 10 days; The Shallows on $4.76m for $12.98m after 10 days; and Ice Age: Collison Course, in ninth place, on $2.49m for $64.45m after 27 days.
Another two new releases rounded out the top 10. Oxide Pang's My War, also starring Liu Ye, debuted in eighth with $3.68m and Hong Kong animation McDull – Rise Of The Rice Cooker opened in tenth with $2.57m, both from their first four days.
Last week's box office bounced back by approximately 87%, thanks to the mid-autumn festival. However, ticket sales for the three-day mid-autumn holidays (Sep 15-17) were down by approximately 20%, compared to the same mid-autumn release window last year. The holidays were shorter last year, lasting only two days, but the box office was boasted by record-breaking hit Lost In Hong Kong.
This week's new releases include Bastille Day (Sep 20), Chibi Maruko-chan: The Boy From Italy, Storks and Another Woman (all on Sep 23).