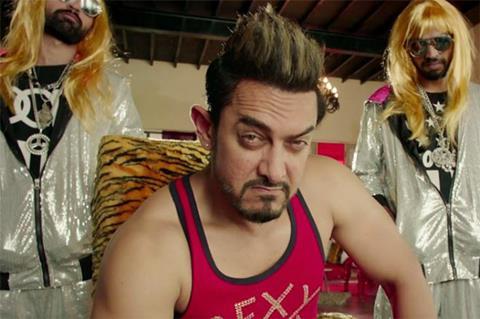 Secret Superstar shot to the top of the Chinese box office in the week of Jan 22-28, while Maze Runner: The Death Cure narrowly won the weekend and Forever Young hit $100m.
Bollywood superstar Aamir Khan's Secret Superstar stole the weekly crown with $40.4m for $69.6m after 10 days. The coming-of-age story about a young girl who dreams of becoming a famous singer reunites Khan with his Dangal co-star Zaira Wasim. Already China's second highest grossing Indian film after its first weekend, it's now one of the top grossing non-Hollywood foreign films although it's still a long way off from Dangal.
Former champion Forever Young, featuring an A-list cast toplined by Zhang Ziyi, dropped to the second place but still held well with $28.2m for $101.2m after 17 days.
Fox's young adult adventure Maze Runner: The Death Cure came in third overall with $24.1m from its first three days, narrowly taking the weekend crown. While its opening debut was comparable to that of North America, it lost its momentum in China on Sunday when Secret Superstar reclaimed the No.1 spot and pushed it to second place.
The next two titles were neck-and-neck: Julia Roberts' Wonder ranked fourth with $10.2m for $19.4m and Fox's animation adventure Ferdinand added $9.6m for $19.6m, both after 10 days.
Sony's adventure sequel Jumanji: Welcome To The Jungle brought in $7.1m for $78m after 17 days, making China the lead market, while local romance comedy hit The Ex-File: The Return Of The Exes added $5.9m for $318.8m after 31 days.
Yet-to-open Chinese New Year title Boonie Bears: The Big Shrink earned $2.4m based on previews only; ahead of A Better Tomorrow 2018, Ding Sheng's remake of John Woo's classic, on $1.8m for $10.3m after 11 days and Li Bingbing's English-language action adventure Guardians Of The Tomb on $1.5m for $8.1m after 10 days.
Coming up this week, The Greatest Showman is scheduled for Feb 1; followed by Bad Daddy, Till The End Of The World, My Little Pony: The Movie and The Miracles Of The Namiya General Store on Feb 2.