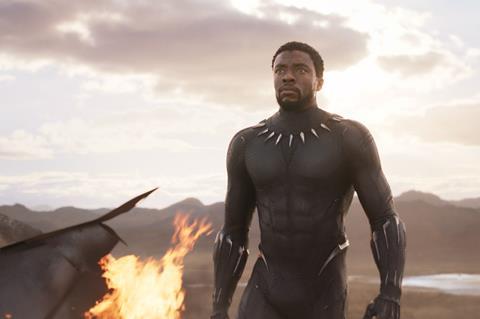 After the local festive titles took turns to top the charts, Hollywood struck gold with Black Panther in the week of Mar 5-11, while Operation Red Sea is now officially the overall Chinese New Year champion.
Disney's Black Panther has become the first Hollywood title to take the No.1 weekly spot in 2018 as the Chinese box office has been dominated by strong local blockbusters and Indian hit Secret Superstar.
The superhero film with a predominantly black cast debuted as the fourth highest for a Marvel Cinematic Universe (MCU) title, taking $70.1m over the three-day opening weekend. It fared better than Thor: Ragnarok but was slightly below Spider-Man: Homecoming.
Edged out by Black Panther, Operation Red Sea came in second with $58.1m. But its 24-day total of $556.6m finally made it the overall Chinese New Year champion, narrowly surpassing Detective Chinatown 2. Dante Lam's action-packed military film is also China's third highest grossing film of all time, behind Wolf Warriors 2 and The Mermaid. It may even have a chance to leap to the second place as its run has been extended till Apr 15.
Action comedy Detective Chinatown 2 dropped to third with $27m for $549.4m after 24 days, making it China's fourth highest grossing film of all time. Now the top four of all time is made up of local titles only, with the fifth being Furious 8.
Local documentary Amazing China, about China's recent achievements, earned $22.4m for $37.9m after 10 days, surpassing Twenty Two to become the highest grossing local documentary.
It was followed by Salman Khan's Indian blockbuster Bajrangi Bhaijaan on $18.5m for $27.6m after 10 days; Sony's CG/live action feature Peter Rabbit on $7.6m for $21m after 10 days; and Monster Hunt 2 on $5.7m for $370.3m after 24 days.
Riding on its Oscar success, Three Billboards Outside Ebbing, Missouri took $4.8m for $7.3m after 10 days; ahead of new local animation Duck Duck Goose on $3.5m for $5m from its first three days; and Barbara Wong's latest chick flick Girls 2 on $2.3m for $10.5m after 10 days.
More Hollywood titles are on the way, with Tomb Raider and The Shape Of Water due to roll out on Mar 16.